Morristown
Morris County are reporting that Mr. Tyrell Lansing, 27, whose last known address in Morristown, has been charged with first-degree murder and related offenses that stem from an August 18th homicide occurring on Clyde Potts Drive. 
According to a statement released by the Morris County Prosecutor's Office, at approximately 1:03 a.m., the Morristown Police Department received a 911 call regarding a shooting on Clyde Potts Drive, Morristown. 
County officials said emergency responders located a male in the parking lot near 28 Clyde Potts Drive with multiple fatal gunshot wounds.
Officials say, following an autopsy, Morris County Deputy Medical Examiner Dr. Di Wang, M.D. determined the manner of death to be homicide. The victim has been identified as Mr. Raijah Scott, 35, of Cedar Knolls.
The investigation revealed that Lansing and the Scott were acquaintances.
Officials say the investigation further revealed that at approximately 1:01 a.m., Lansing allegedly shot Scott multiple times before fleeing the scene in a motor vehicle.
According to officials, police arrested Lansing on August 19,  traveling through the State of Oklahoma.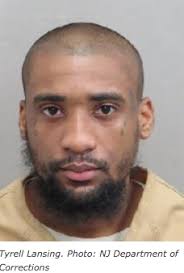 As a result of the investigation, authorities charged Lansing with first-degree Murder, second-degree Possession of a Weapon for an Unlawful Purpose, second-degree Unlawful Possession of a Weapon, second degree Certain Persons Not to Have Weapons or Ammunition, and fourth-degree Possession of Prohibited Weapons.
Lansing is currently in custody in Oklahoma, pending extradition to New Jersey.
Anyone with information about this incident is encouraged to call the Morris County Prosecutor's Office Major Crimes Unit at 973-285-6200, the Morristown Police Department at 973-292-6737, or Morris County Crime Stoppers at 973-267-2255. Persons reporting any information may remain.