Belleville
The little girl with the pink hat who was peeking out the sunroof of her dad's SUV couldn't believe her eyes. 
Her eyes grew big, and a smile creased her face as she set her gaze on the three live camels right in front of her.
"Awww, they're adorable," she said as she waved to them. "They're just beautiful. I love them."
Children of all ages were confounded by the camels, dazzled by the brightly dressed dancers and floored by the ornate floats during Thursday's Three Kings Day drive-by event presented by Mayor Michael Melham and the Township Council.
A line of about 750 cars carrying thousands of kids streamed through the festive celebration at Belleville High School, where they were greeted by holiday music, bright lights illuminating in the sky, and, of course, volunteers dressed as the Three Kings.
Each child received a wrapped gift that was safely passed through open car windows.
Giving children gifts is one of the signature parts of Three Kings Day, which is especially popular in Spain and Latin American countries.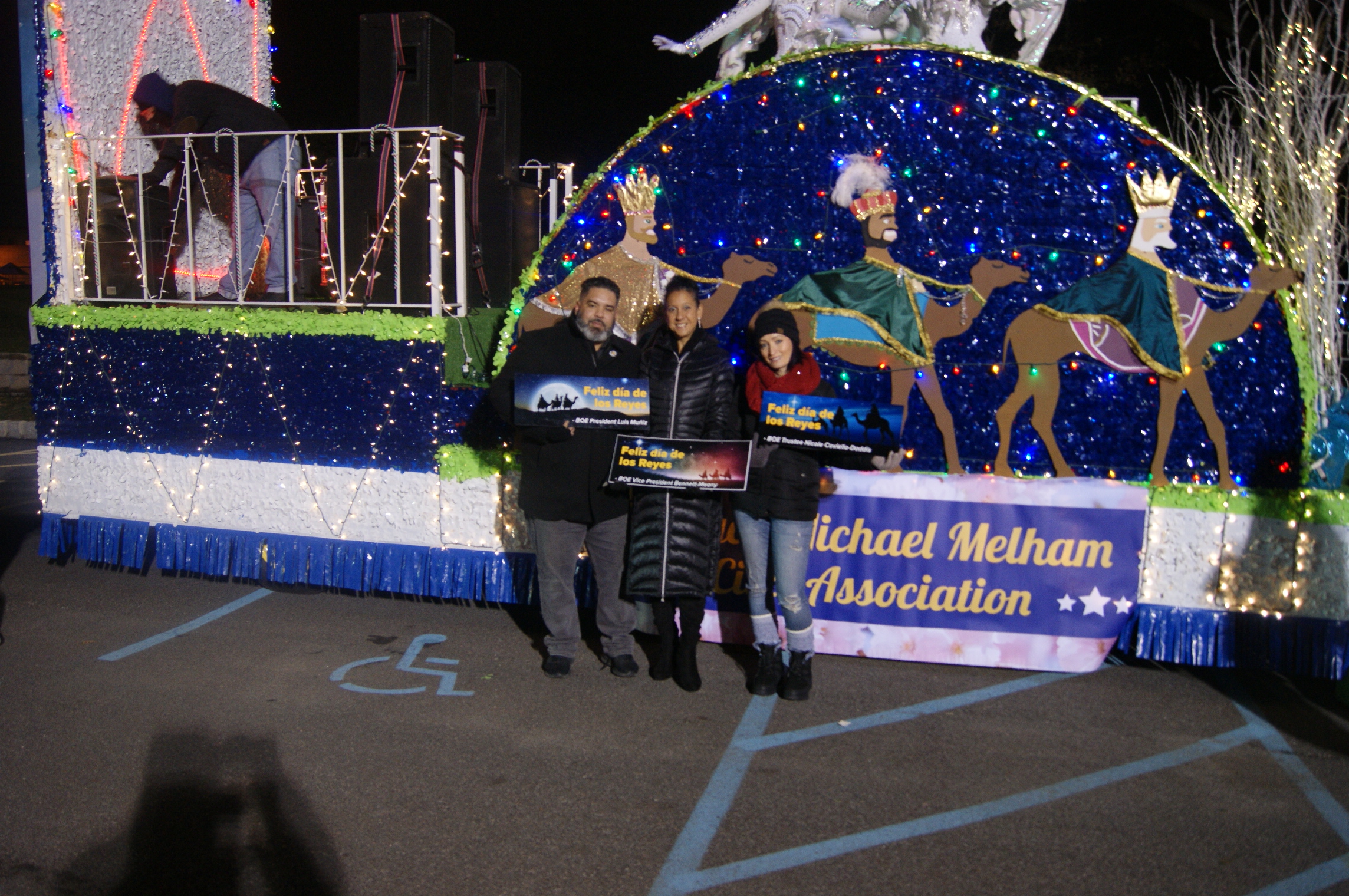 "This is a great way for us to celebrate the rich diversity of cultures we have in Belleville," said Melham, who greeted each car-full of kids with candy. 
"In just a few short years, this has become one of Belleville's most beloved events. It was amazing to see the community's response to this event, not to mention last month's Christmas Winter Festival."
Deputy Mayor Naomy De Peña, who was also celebrating her birthday, spent the entire two and a half hour event with a microphone in hand, greeting event-goers in English and Spanish.
"This day carries so many great messages: joy, happiness, peace on Earth," she said. 
"And, of course, it's a day for the children. I can't remember seeing so many smiles on so many little faces."
Councilman Vinny Cozzarelli, Board of Education President Luis Muñiz, Board Vice President Gaby Bennett-Meany, Board member Nicole Coviello-Daddis, Belleville Public Library Board of Trustees President Renato Peralta and Library Trustee Marleni Muñiz also joined in the event.
The nonpartisan community event took the combined effort of the whole town, from the people who donated the toys to the volunteers who spent countless hours wrapping them. 
Plus, members of the township's police and fire departments helped make it a festive night, ensuring the camels weren't too feisty.
The Three Kings Day event was supported by the Belleville Police, the Mayor Michael Melham Civic Association, the Better Belleville Association and the Belleville Republican Committee.