Paterson
By Richard L. Smith 
Several businesses in Paterson are teaming up to provide hot meals, warm clothing and turkeys for some of Passaic County's less fortunate Sunday. 
Organizers told RLS Media that Jay's Fish Gate, Jay's Car Wash, Civilized Nation, and Mimi Braids are in collaboration with Commissioner Capers and Brooms LLC, and will host the free event that will include warm coats on November 20, 2022, beginning at 1 p.m. at 69 Montgomery Street in Paterson. 
According to organizers, they are looking to assist those who need a little help or know someone genuinely in need of assistance during these extraordinary times.   
Jeffrey "Jay" Robinson, one of the sponsors for this humanitarian occasion, recalled years of growing up in a church where his parents would feed the needy as a right of passage. 
"For many years, my mom and pops through Assembly Holy House of Prayer Church would give hundreds of coats and food to many of those in need, not just during Holiday Season but all year long."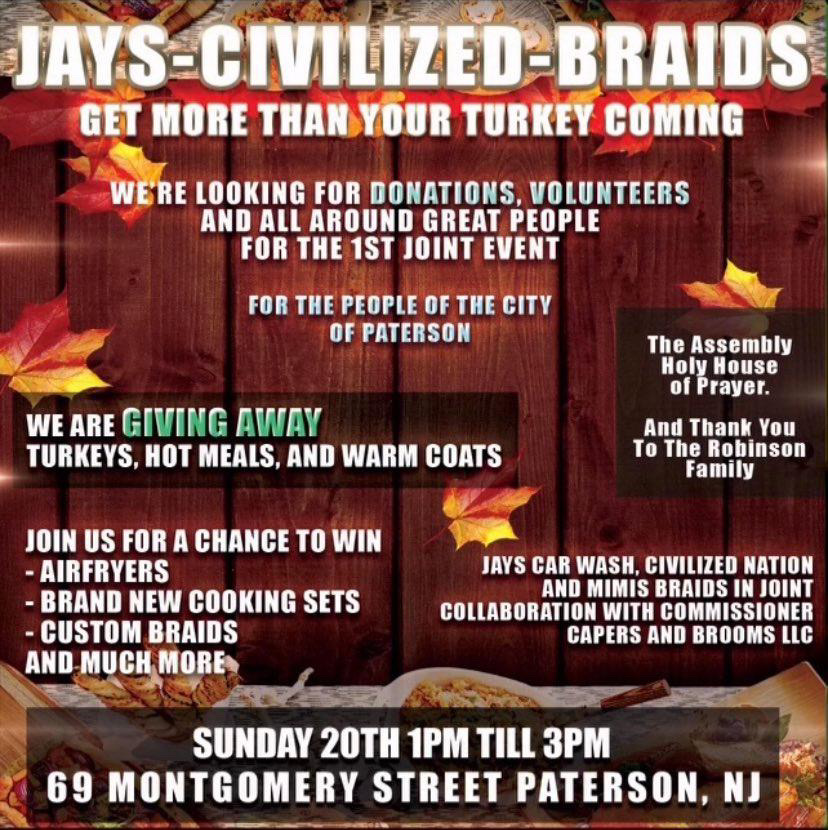 Robinson, excited about Sunday's event, said that although her parents have passed away and are no longer here, their services' impact remains with him  and our quest to provide for those in need. 
"So we are glad to announce that in collaboration with several business owners this year, we will be working together to be a blessing to others," Robinson said.