Roselle Park
Throughout the month of July, Roselle Park's Seniors will be traveling to six fun and exciting destinations throughout New Jersey, New York, and Pennsylvania. 
The travel schedule is as follows:
Thursday, July 7 - Seaside Heights, NJ Wednesday, July 13 - Trip to New Hope, PA Thursday, July 14 - Empire City Casino, NY Thursday, July 21 - Point Pleasant, NJ Wednesday, July 27 - Barnegat Lighthouse State Park, NJ Thursday, July 28 - Wind Creek Bethlehem Resort & Casino, PA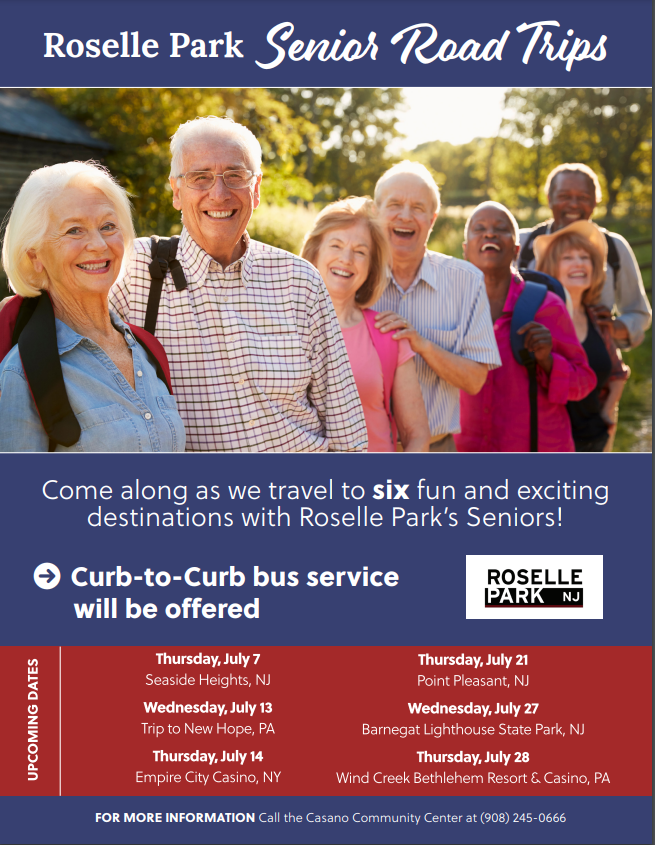 "Summer is the perfect time for our seniors to get out of the house and have some fun at local travel destinations," Mayor Joe Signorello said. 
"These road trips are perfect for all seniors, especially those without a mode of personal transportation. I highly encourage Roselle Park's seniors to take part in this great experience!"
Curb-to-curb pickup will be available. 
For more information, please call the Casano Community Center at (908) 245-0666.