East Orange
As RLS Media continues to honor and acknowledge the importance of notable women in NJ, we take this moment to mention Nurse Clara, Louise Maass of East Orange. 
Rowan University and the New Jersey Historical Commission said Nurse Clara Louise Maass (1876-1901) volunteered to participate in an immunization experiment against yellow fever in Cuba.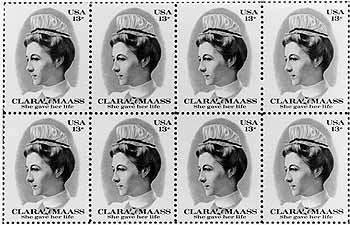 According to the university and historical commission., the first time Maass was bitten by an infectious mosquito, she contracted a mild case of the disease, which caused doctors to believe that she was immune.
The second bite, however, proved fatal, according to published reports by the two entities. 
Maass succumbed to the disease at the young age of 25. Her death convinced doctors and researchers that the mosquito caused yellow fever.
A manuscript from the NJ Historical Society stated, at age 15, Maass began working at the Newark Orphan Asylum. When she was 17,  Maass entered the nursing school at Newark German Hospital, only the fourth nursing school at the time in New Jersey and the first in Newark. She graduated in 1895, after two years of training.
In 1898, at the age of 21, she was named head nurse at Newark German Hospital. 
The NJ Historical Society said, despite her death, the memory of Clara's heroism lived on. In 1952, the name of the originally named Newark German Hospital (also called Newark Memorial Hospital and Lutheran Memorial Hospital) was changed to Clara Maass Memorial Hospital.
It is today known as Clara Maass Medical Center, located adjacent to Newark's Branch Brook Park.
IMAGE-INFORMATION CREDIT: Rowan University, NJ Historical Society