New Jersey
The NJ TRANSIT Board of Directors today approved the purchase of 258 cutaway minibusses for Access Link service, allowing Access Link to modernize its aging fleet.  
In addition, this year, NJ TRANSIT has added 80 new hybrid sedans to replace older sedans and expand the fleet. 
These vehicle purchases are aligned with NJ TRANSIT's 10-Year Strategic Pan (NJT2030), supporting the goals of enhancing the customer experience, powering a stronger and fairer New Jersey for all communities, and promoting a more sustainable future for our planet.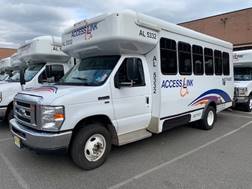 "These new vehicles are of critical importance to the continued safe, reliable and efficient operation of NJ TRANSIT's indispensable Access Link service," NJ TRANSIT President & CEO Kevin S. Corbett said. 
"As a complement to the technology upgrades we've introduced through Access Link Online and our new, dedicated Access Link mobile app, these new vehicles represent our continued commitment to modernizing service delivery for our Access Link customers."
NJ TRANSIT will enter into a cooperative purchasing agreement with the NJ TRANSIT will enter into a cooperative purchasing agreement to purchase the 258 minibuses from Coach & Equipment Bus Sales of Penn Yan, NY. 
The minibusses will replace vehicles from 2014, 2015 and 2016, which have exceeded their useful lifecycle. Access Link minibusses have a useful lifecycle of five years or 250,000 miles.
This authorization will allow Access Link to modernize the aging fleet at a total cost of $22.2 million.            
Hybrid Sedans
Over the past several weeks, NJ TRANSIT has been rolling out 80 new leased Toyota Camry hybrid sedans.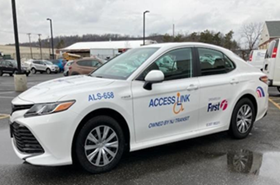 The new hybrid sedans increase fuel efficiency and advance NJ TRANSIT's sustainability efforts outlined in the 10-year Strategic Plan.  
NJ TRANSIT will retire 36 current Access Link sedans, resulting in a fleet expansion of 44 sedans.
The new Toyotas will be distributed as follows:
Region 2 (Burlington, Camden, Gloucester, Salem) 27
Region 3 (Atlantic, Cape May, Cumberland, South Ocean) 2
Region 4 (Mercer, Middlesex, Monmouth, North Ocean) 16
Region 5 (Essex, Morris, Somerset, Union) 25
Region 6 (Bergen, Passaic, Hudson) 10    
Access Link provided 965,559 passenger trips during FY21.