New Providence
By: Aaliyah Amos
Celebrated in August, National Minority Donor Awareness Month honors the generosity of multicultural organ and tissue donors and their families while underscoring the critical need for people from diverse communities to register as organ and tissue donors.
Locally in the Garden State, NJ Sharing Network, the federally designated non-profit organization responsible for recovering donated organs and tissue, is leading a wide variety of community awareness events and activities during National Minority Donor Awareness Month.
According to United Network for Organ Sharing (UNOS), nearly 4,000 New Jersey residents are waiting for a life-saving transplant, and 68% are people of color. Just one organ and tissue donor can save eight lives and enhance the lives of over 75 people.
"Each year in New Jersey, thousands of lives are saved and enhanced through organ and tissue donation and transplantation. This is something to celebrate. However, there is an urgent need to raise awareness of organ and tissue donation to help save more lives in our diverse communities of New Jersey," said Joe Roth, President and CEO of NJ Sharing Network.
"Although organs are not matched according to race and ethnicity, and people of different races frequently match one another, all individuals waiting for an organ transplant will have a better chance of receiving one if there are large numbers of donors from multicultural communities."
According to NJ Sharing Network, E. Denise Peoples, hospital and community services specialist, is a double-lung transplant recipient and a Newark resident who works throughout the year to promote NJ Sharing Network's life-saving mission in local schools, faith-based organizations and community associations.
"We have all experienced how health issues such as hypertension, diabetes and kidney failure have impacted those around us – our mothers, fathers, aunts, uncles, friends and neighbors. That is why there is a greater need than ever for transplants among our racial and ethnic minorities. We need the active support of our community members to help educate others and dispel any myths and misinformation about organ and tissue donation," said Peoples.
Nj Sharing Network states that during National Minority Donor Awareness Month, NJ Sharing Network's website (www.NJSharingNetwork.org) and social media platforms will be continually updated with information on ways to participate in local activities and events.
The website also features informative videos, flyers and social media messaging to share with others. To learn more, get involved and register as an organ and tissue donor, visit www.NJSharingNetwork.org.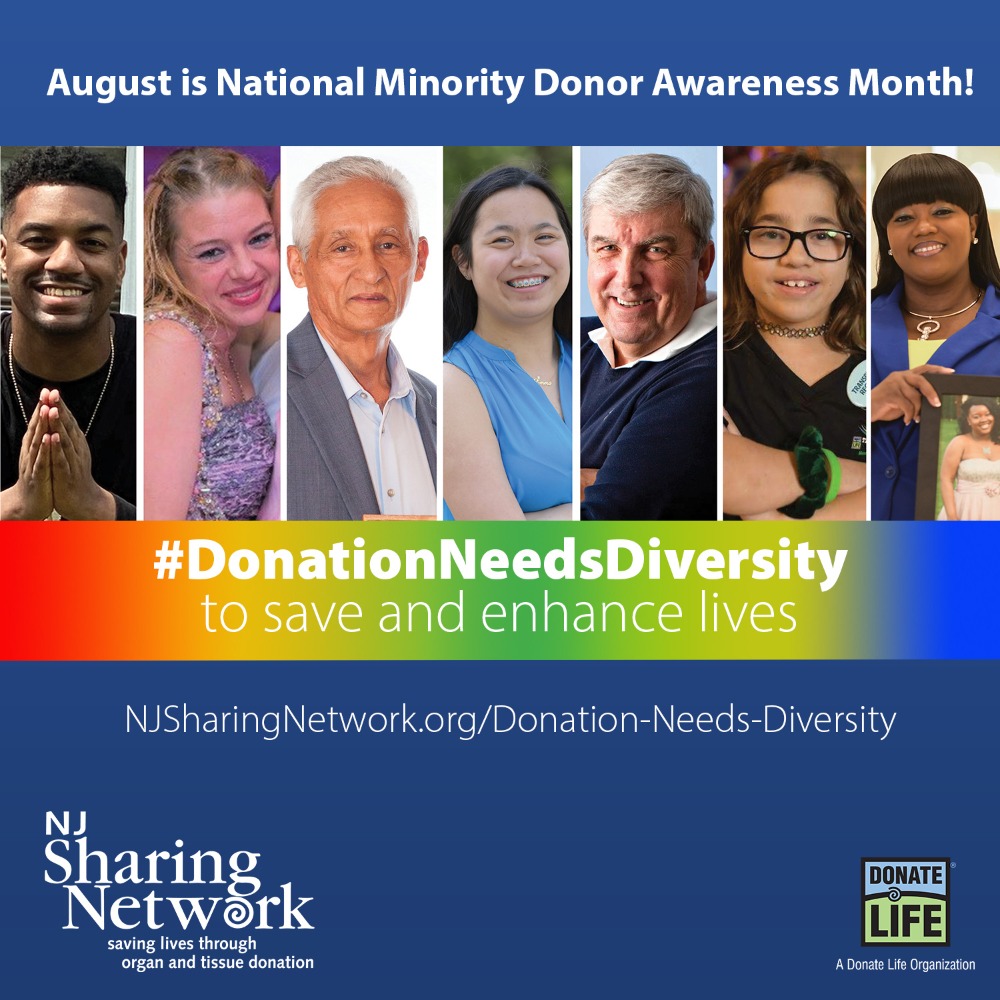 All are welcome to participate in the following free community activities:
August 2, 2022
National Night Out Events - Newark, Plainfield, Paterson, New Providence
August 5, 2022
Newark First Friday - Mulberry Commons Park, Newark, NJ
August 7 and 21
11:00am - 2:00pm
The Yard Jazz Brunch - Newark, NJ
August 11, 2022
11:00am - 3:00pm
Newark Farmers Market - Newark, NJ
August 13, 2022
Ubiquity Soul Music - Military Park, Newark, NJ
August 27, 2022
12:00pm - 4:00pm
Walgreens Information Tables at stores in Newark, Paterson, Somerset, Plainfield, Jersey City, East Orange, Elizabeth, Bayonne, Irvington, and Jersey City