Roselle Park
The Borough of Roselle Park and the Roselle Park Fire Department will be hosting four community cooldown events during July and August. 
As firefighters perform their pump and water hose drills, children of all ages will be allowed to run through the water showers to cool off during the hot summer evenings.
"As we saw last year, community cooldowns are a great and easy way for children to have some fun while staying cool in the heat," said Mayor Joe Signorello. 
"I hope children from all Roselle Park families join our firefighters for these cooldowns! Thank you to the Roselle Park Fire Department for including residents in your training drills."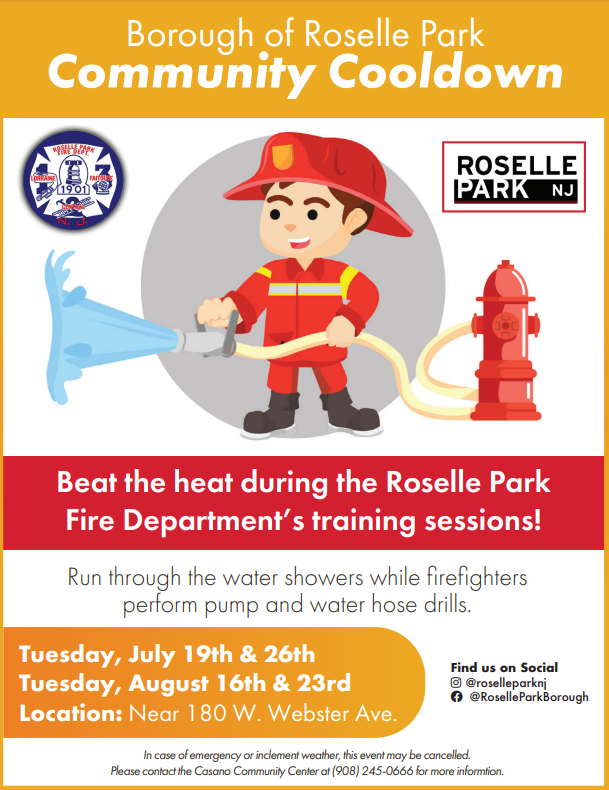 Roselle Park Fire Chief Raymond Parenteau is excited for children to see just a part of what it's like to be a firefighter. 
"Not only is this a fun summer event for children, but it's an excellent opportunity for them to experience a behind-the-scenes look at what our firefighters do to train," he said. 
"I encourage all children to come out, meet our firefighters, and beat the heat during the cooldown!" 
Community Cooldowns will take place on Tuesday, July 19 and 26, and Tuesday, August 16 and 23, from 6:30 - 7:30 p.m. near 180 W. Webster Avenue. 
For more information, please call the Casano Community Center at (908) 245-0666.