Demarest
"The best version of the world starts with the best version of me," psychologist Dr. Linda Terry told the Academy of the Holy Angels on Awareness Day (March 30). Her keynote speech, "Me vs. My Anxiety," highlighted this year's exploration of multi-dimensional wellness.
Awareness Day is an annual observance at AHA. Events are coordinated by AHA Director of Mission & Ministry Joan Connelly each year, and themes change on a rotating schedule.
"Anxiety tries to keep me safe," Dr. Terry told her audience, noting that anxiety is the most common mental condition in America. Anxiety, she explained, is prompted by problem-solving for the future.
"The more you think of something, the more ingrained it becomes," Dr. Terry said, adding that if you think about something often, your brain gets the message that this thought is critical. Anxiety can change brain structure, and negative thoughts can become self-fulfilling prophecies, she noted.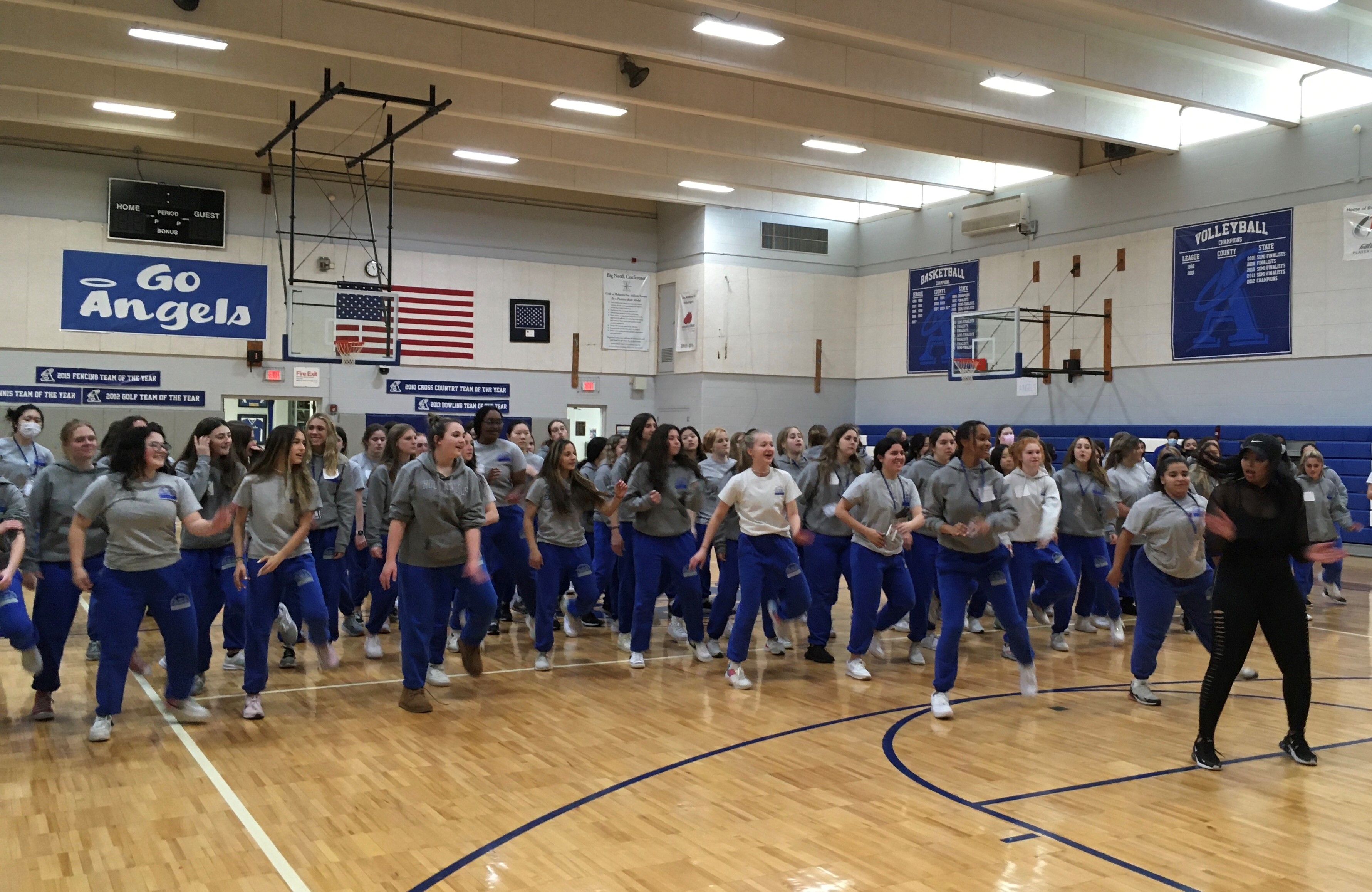 She also cautioned that the human brain does not differentiate between sad or stressful events seen onscreen and actual events.
This speaker shared breathing techniques that inspire a sense of calm and physical movements that increase energy. She also encouraged her audience to make essential changes in responding to a stressful situation. For example, instead of getting stuck on saying, "This is too hard," Dr. Terry recommended, "How can I make this easier?"
Exercise, sun exposure, complex carbohydrates like fruits and vegetables, laughing with other people, listening to music, singing in a group, and enjoying the scent of cinnamon are a few of the ways the human brain releases mood-boosting hormones.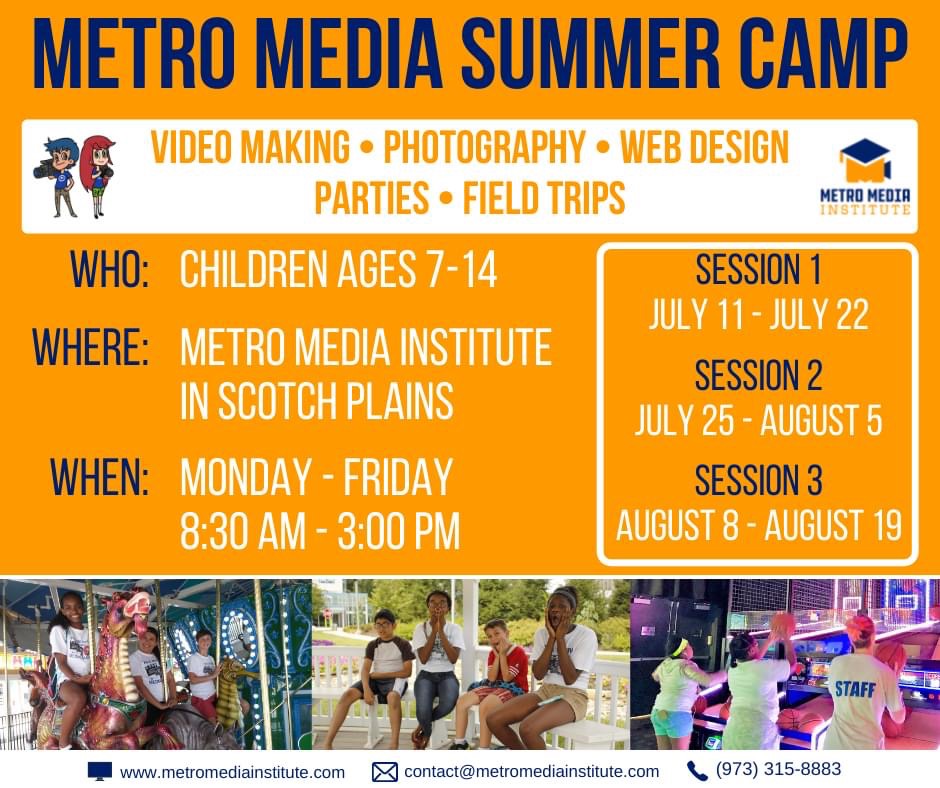 Dr. Terry encouraged everyone to talk about their feelings, eat well, be mindful, and get proper sleep. Self-care, she explained, widens the window of tolerance for life's many challenges. 
"Embody peace and send it out to other people," Dr. Terry said.
Students also attended Zumba with instructor Princess Gibbs, a workshop of their choice, and a grade level session. First-year students explored empowerment with AHA PowerBack Program Manager Carrie Speiser and A Partnership for Change Co-founder Allison Bressler; sophomores heard from Lisa Abualyand April Tully of Thrive and Balance; and juniors considered "Making a Living vs. Making a Life," presented by Rebecca Testi and Natasha Gonzalez (both AHA '09) and Elizabeth Quiñones (AHA '10).
Seniors listened to Katherine Samuels and Krystina Vafiadis (both AHA '17) discuss "Thriving in My First Year of College," which included information they wished they had as incoming college students. Certified Life & Health Coach Jeannine Deramo helped students reconnect with hunger signals as they developed a healthier relationship with food, and a dietitian covered foods that support a healthy mind and body.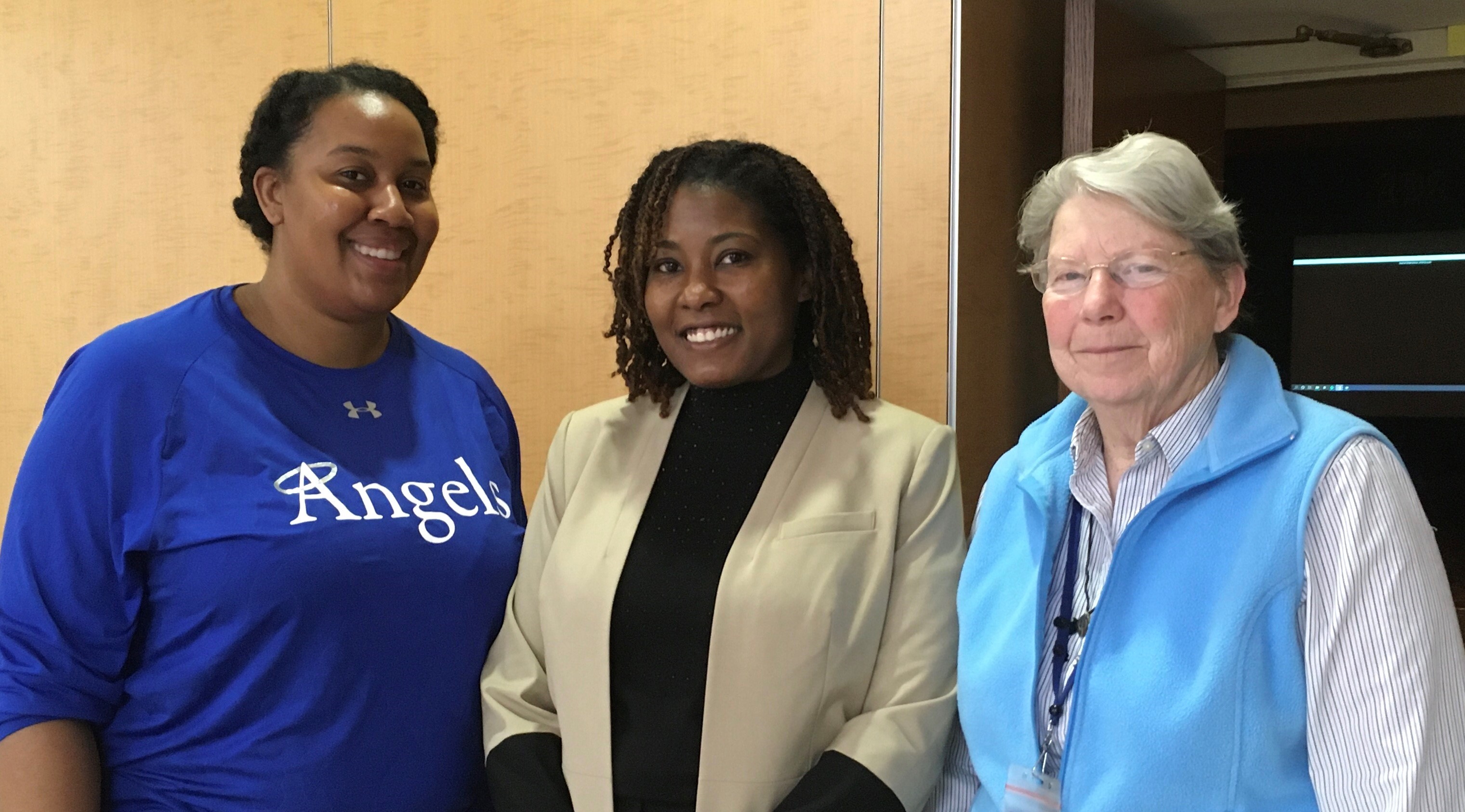 Several Angels also acted as presenters. Chloe Cozzi (Ibrahim) and Zeida Ben-Fredj Lopez led Express Yourself, which allowed participants to explore their emotions through art. Isabella Dailand Giselle Acosta presented Writing to Wellness, while Nicole Yakubov, Erin Pav, Rachel Mina, and Keira Footer discussed the impact of socio-economic status on mental wellness.
Mia "Mac" Chang and Ellie Sawyer presented sustainable stress management ideas. Their workshop included a wide range of topics, including composting, gardening ideas, efficient energy use, creating homemade cosmetics, and reducing food waste. 
Chang and Sawyer used a blend of instructional techniques, starting with a Wordles ice-breaker. They presented a brief video about creating a butterfly garden and information about donating used mascara brushes (cleaned, of course) to wandsforwildlife.org, which uses the brushes to rehabilitate wildlife.
The pair also discussed crafts and gave everyone a chance to plant lettuce, cilantro, chive, and radish seeds. Their Kahoot quiz yielded proof that everyone was listening carefully.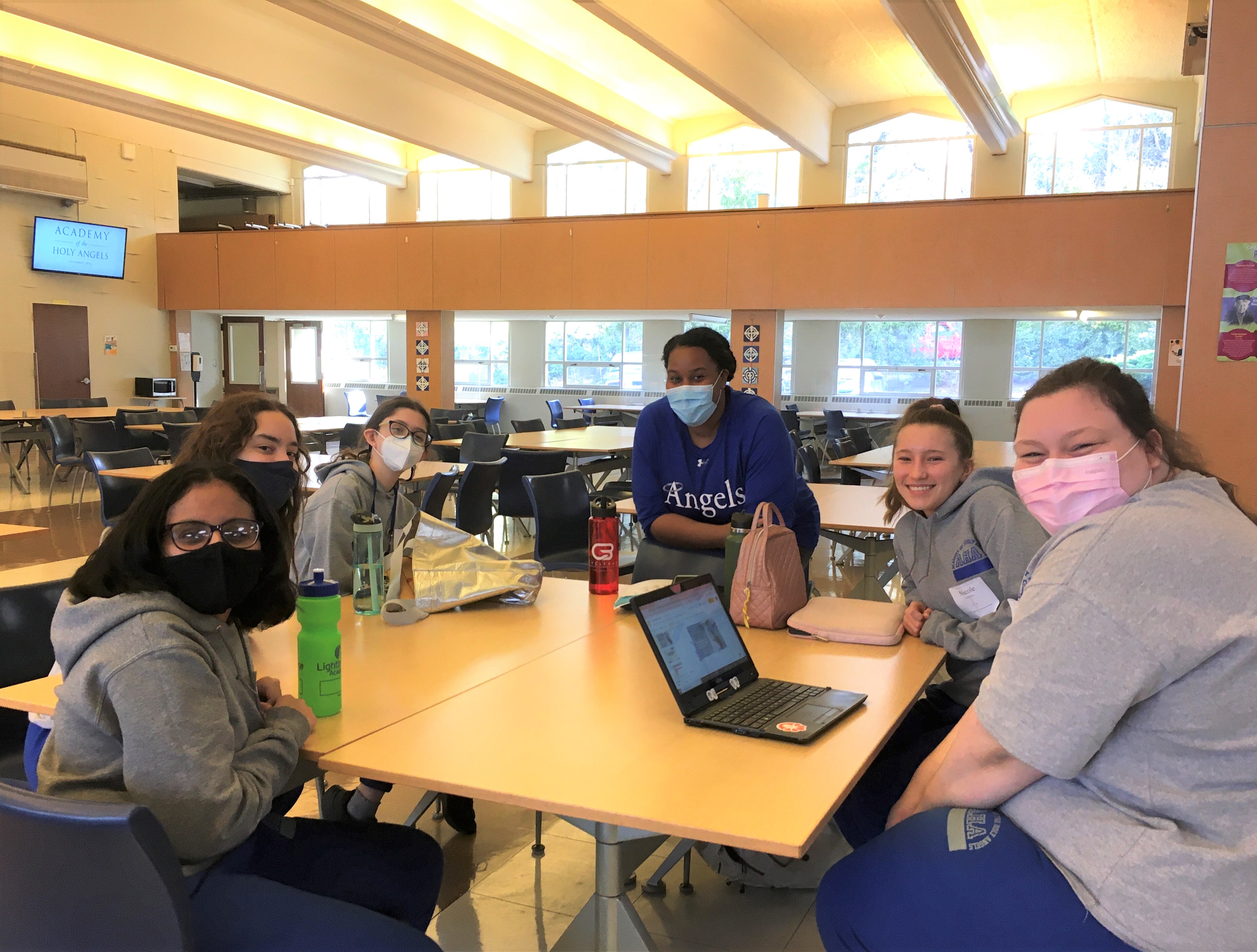 Faculty members Donna Ryan, Nancy Schneberger, and Sean Hickey contributed their knowledge of various wellness topics.
Ryan looked at why and how people express and perceive love. Schneberger shared tips for mindfulness meditation and joined forces with a professional Qi Gong instructor. 
Physical Education/Health Chair Tara Nordsvan led students in mindful movement, and Athletic Trainer Julia Moschetti presented exercises that alleviate muscle tension. 
Hickey spoke about the benefits of veganism.
The empowerment workshop offered by Bressler and Speisertook a closer look at what empowerment actually means.
After hearing from multiple students, Bressler pointed out that this term is subjective.
"For me, it's being true to yourself without taking from others," Bressler summarized, noting how confidence is an element of empowerment.
"If you're truly empowered, you don't have to take from somebody else."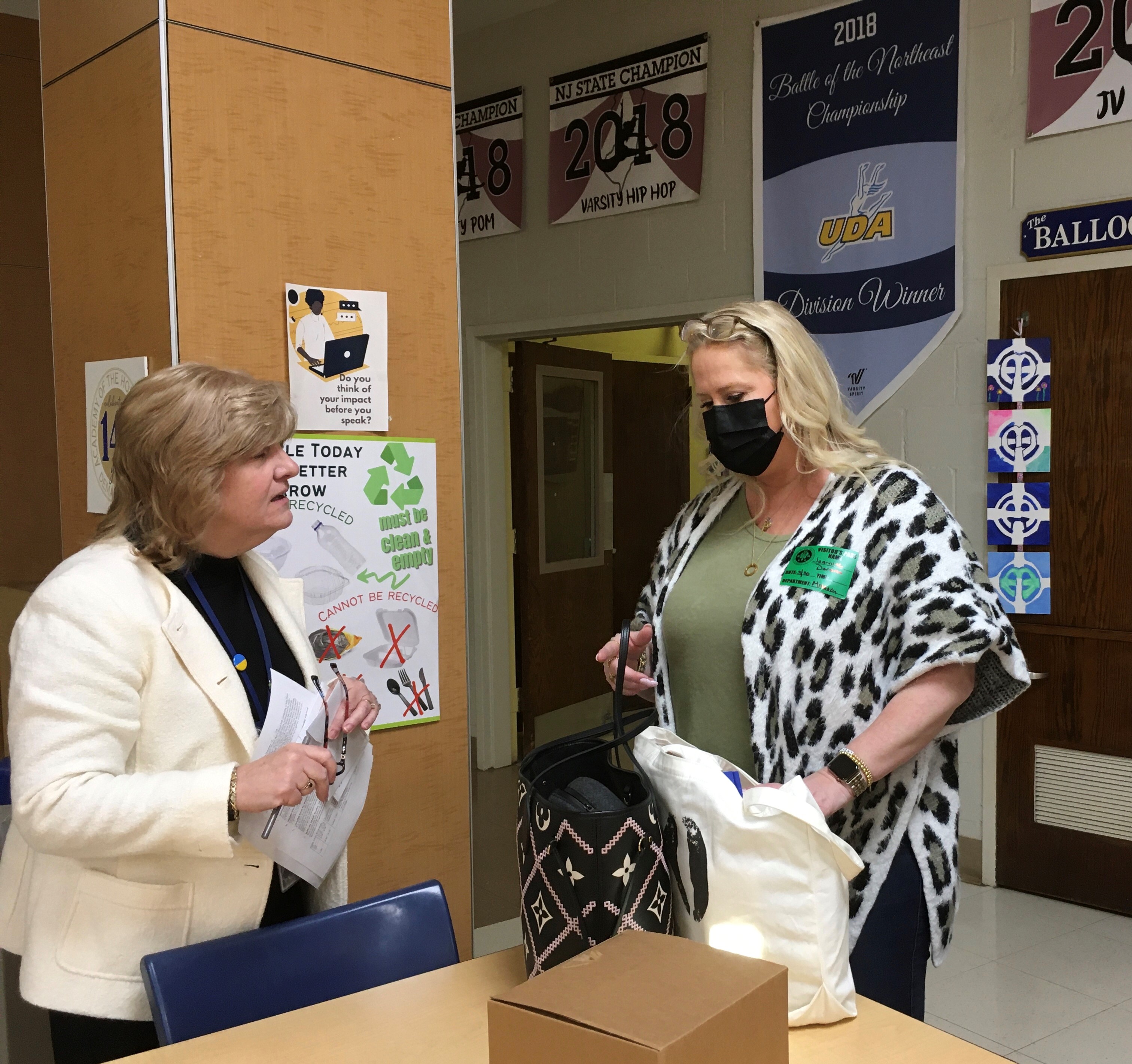 She noted that we're taking away from our own empowerment when judging others.
"Show your strength. Face your fears, and lift each other up," Bressler said. She encouraged the students to take a step toward empowerment every day by asking what they can do to add to someone else.
Speiser said it's OK to ask for help and ask questions. She pointed out that we can control our responses to outside events and influences by controlling our attitude and perspective.
"Choose what you say to yourself," she said. "Be your own best friend."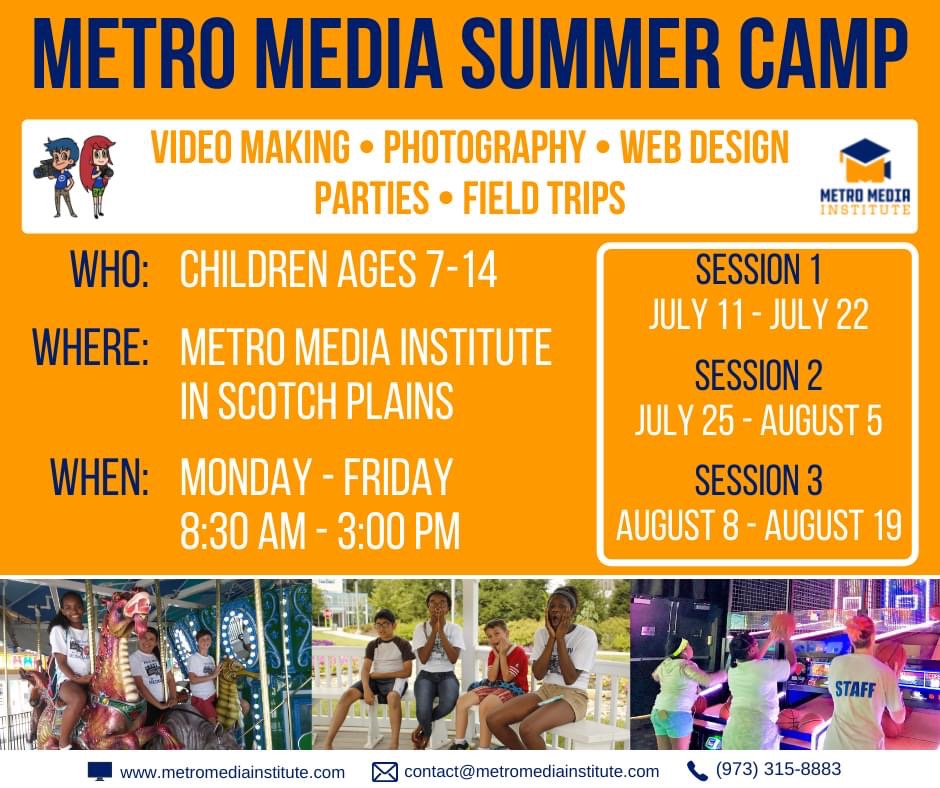 Although Speiser and Bressler said the words, the message for the entire day was clear: "No one else in the entire universe is like you. Treat yourself well and have a positive impact on others."