Belleville
By: Richard L. Smith 
Hundreds of proud Belleville residents cheered on Monday afternoon as the town symbolically renamed Beech Street in honor of Lonnie Bunch III.
For the man who blazed a path from this tree-lined road in Belleville to become the first Black secretary of the Smithsonian, it was a trip down Memory Lane.

He reminisced about old teachers, homework assignments, and school dances with dozens of classmates from Belleville High School Class of 1970 before and after the ceremony to unveil the new street sign declaring this as Lonnie Bunch III Way.
The way Belleville welcomes him back with opened arms seemed to touch the man who has been honored here and abroad for his work as the 14th secretary of the world's largest museum, education, and research complex, not to mention for his work as the founding director of the National Museum of African American History and Culture – the 19th museum in the ever-expanding Smithsonian family.
"I'm honored in a way because I think a lot about this day," Bunch said. "I realized that at 17, all I wanted to do was get out of Beech Street. And at 70, all I want to do is come back. There's nothing more powerful than having your hometown greet you.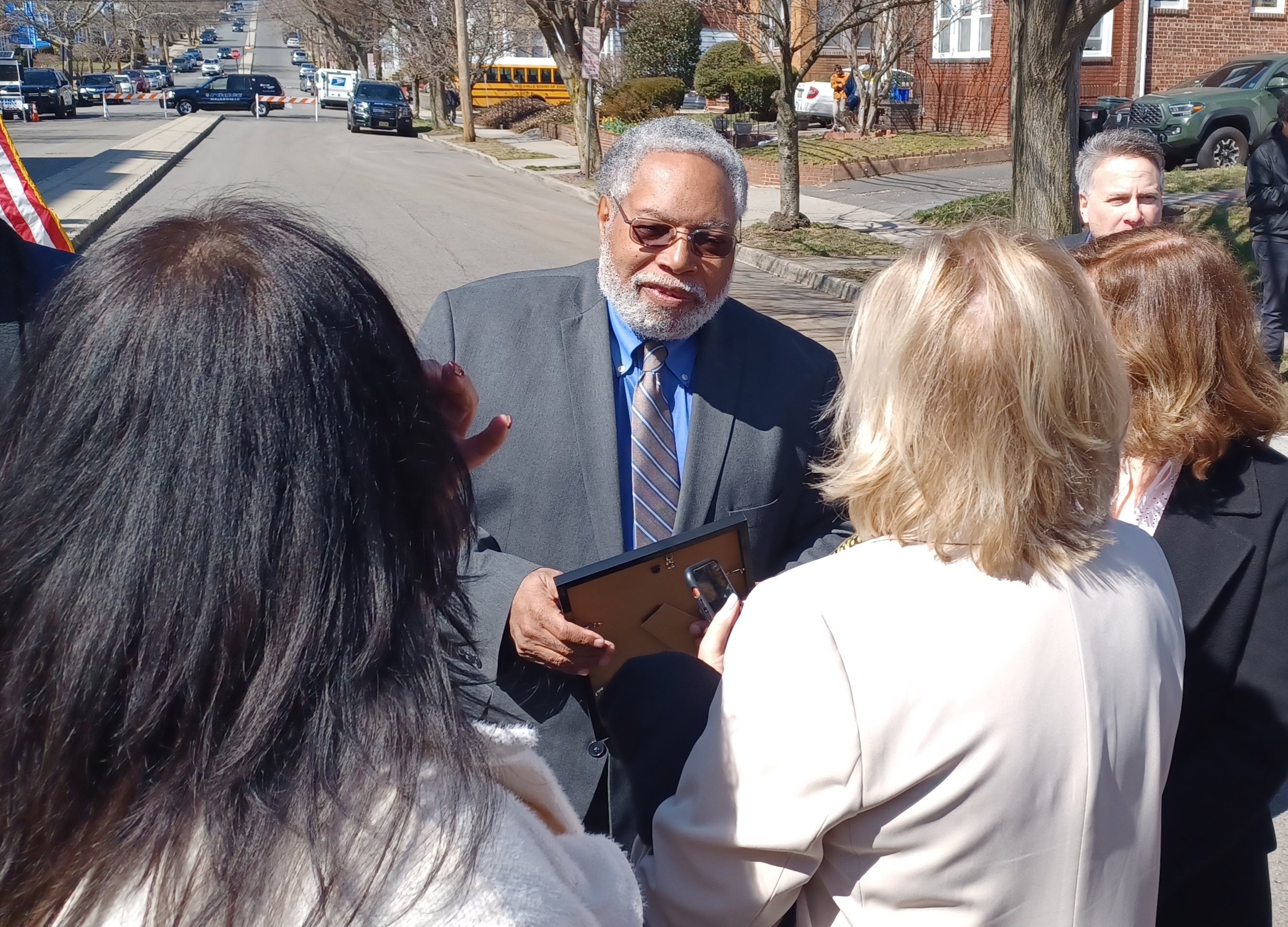 I have gotten awards from around the world, but nothing - nothing - matters as much as this today. So, I want to thank you for giving me something that I always will remember."
His thoughts Monday went back to all the lessons in life learned while growing up at 125 Beech St. in a cramped Colonial-style home bought by his grandfather, a sharecropper-turned-dentist, 100 years ago to the day.
Coming of age in the late 1960s and early 1970s in the shadows of a city (Newark) literally smoldering with racial upheaval, Bunch said he learned when to run and when to fight. How to dodge fists and racial epithets.
But he also learned what it was like to have a great group of buddies from a wide array of backgrounds, how to kick back with your buddies, and sing goofy songs. How to play football on the sandlots. How to swear in Sicilian.
"So, today, sir," as Mayor Michael Melham put it, "we honor you for not only what you have become but for what you have overcome."
Bunch was accompanied by his wife, brother Gregg (BHS Class of '72), and his 95-year-old mother, Montrose. She was a public school teacher, just like his dad.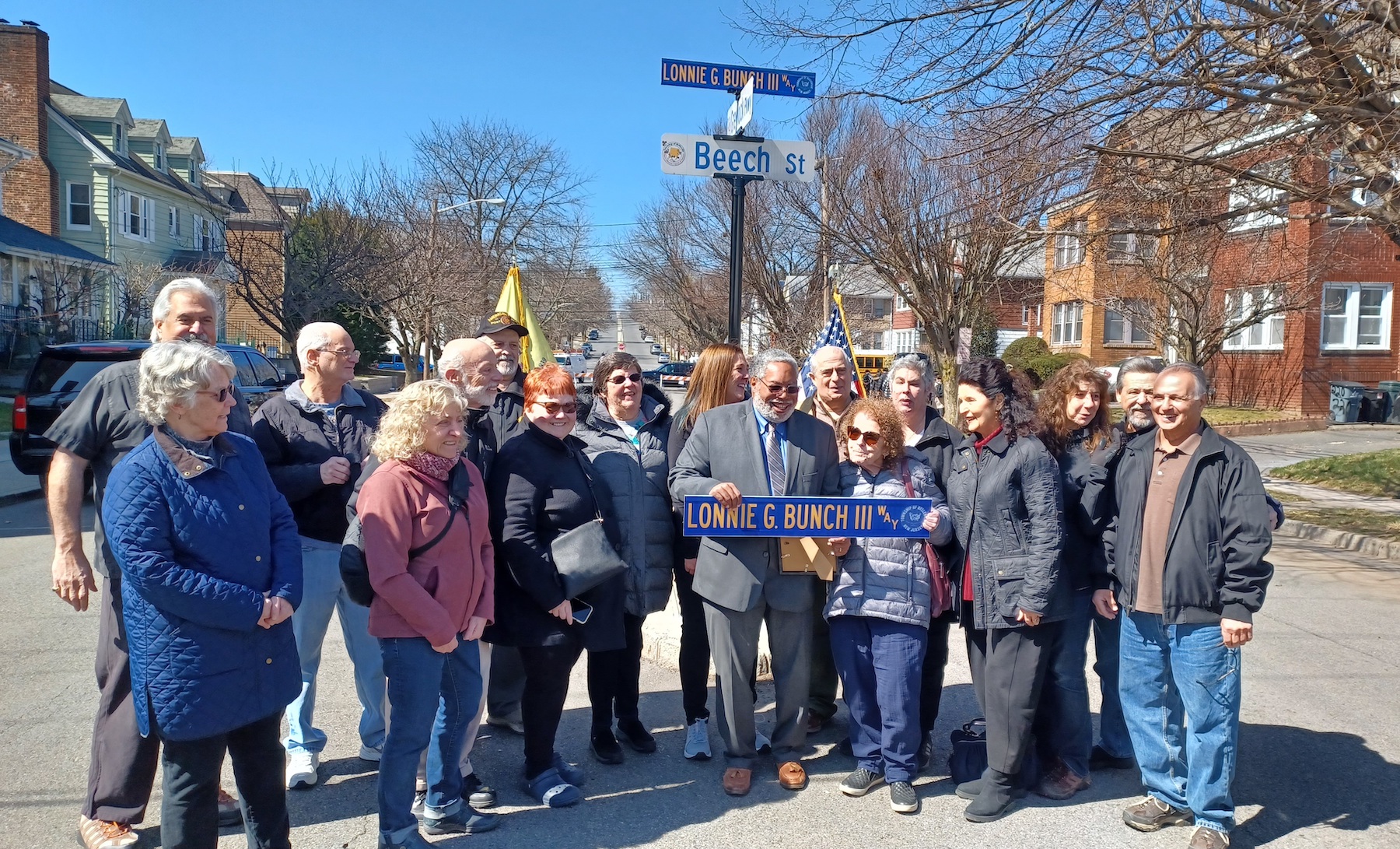 Half the neighborhood ended up being tutored by Bunch's dad.
Councilman Steve Rovell recalled meeting Bunch while visiting his Uncle Fred and Aunt Mildred, who shared a backyard fence with the Bunch family.
Over the years, Rovell would wonder what happened to Lonnie. When he turned on the History Channel one day and saw him being interviewed, he got his answer.
"I started to realize how important Lonnie had become to our country's narrative," Rovell said. "It was kind of a shock to me to look up and say, 'Wait a minute, I know that guy.'"
Belleville Councilman Vinny Cozzarelli and Essex County Commissioner Vice President Carlos Pomares attended Monday's event.