Willingboro
Authorities in NJ continue to search for a woman who has been missing for 25 years.  
Officials said on December 16, 1996, at approximately 1 a.m., Celina Mays went missing from her Willingboro Township home.
Officials said at the time of her disappearance, she was nine months pregnant.
This week marks the 25th anniversary of her disappearance. Celina has not been forgotten, and police are still committed to finding her through the ongoing investigation.
According to officials, over the past 25 years, the Willingboro Township Police have investigated hundreds of leads, but today Celina is still missing.
"We are hoping that someone out there recognizes Celina's image and will help us finally get answers for Celina's family as well as the communities in which she lived," the Burlington County Prosecutor's Office said.
"In 1996, we had limited resources to communicate with the public and inquire details regarding missing persons. In 2021, social media has significantly evolved and can now quickly reach a wide variety of people through many platforms.
We are using social media to distribute information about Celina to raise awareness of her case. We are hopeful that social media will be a beneficial tool in finding new information about the disappearance of Celina Mays."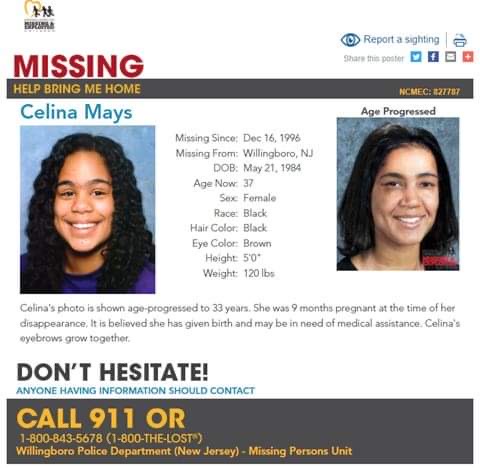 Since her disappearance, Willingboro Township Police has worked with various agencies to assist in locating Celina.
The National Center for Missing and Exploited Children (NCMEC) has supported this investigation for the past 25 years. This organization specializes in recovering missing children and offers resources to aid with investigations.
NCMEC has requested assistance with media circulation from the following companies in numerous states: Walmart, USA Today, Surfer Quest and FIA.
Officials said through the use of social media and the support of NCMEC, the Willingboro Township Police Department remains hopeful that it will obtain answers to help find Celina Mays.
For additional information on Celina Mays, see the current Missing Person's Flyer: https://www.missingkids.org/poster/NCMC/827787/print.
Don't hesitate to contact Willingboro Police Detective Pogorzelski at 609-877-2200 ext. 1080 or Detective Sgt. Whitham at 609-877-2200 ext. 1608 if you have any information regarding Celina Mays.