Newark
Police in Newark request the public's help in identifying a male suspect wanted in connection with a shooting that occurred on Wednesday, January 5.  
Police say at approximately 5:55 p.m., a Newark Police Officer observed a vehicle speeding in the area of South Orange Avenue and Brookdale Avenue and conducted a motor vehicle stop.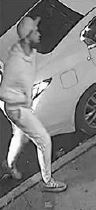 According to police driver alerted the officer that a female victim was being driven to University Hospital after being shot in the 600 block of Sanford Avenue.
The officer assisted the driver to the hospital, where the victim was treated for a non-life-threatening gunshot wound.
The victim is reportedly in stable condition.
Detectives investigating this incident seek the public's help quickly identifying this suspect as part of their investigation.       
Director O'Hara urges anyone with information on the identity of any of these suspects to call the Division's 24-hour Crime Stopper tip line at 1-877-NWK-TIPS (1-877-695-8477).   
All anonymous Crime Stopper tips are kept confidential and could result in a reward.