Atlantic County
The Atlantic County Officials welcomes their staff County Investigator Joseph Procopio who arrives at ACPO with 13 ½ years of law enforcement experience after his service with the Atlantic City Police Department.
Officials say Investigator Procopio began his career at the Atlantic City Police Department. He served in the ACPD Patrol Division and then moved on to the ACPD Tactical Patrol Team.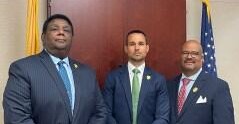 County Investigator Procopio, 34, would serve as a detective for six years with the ACPD Violent Crimes Unit before beginning his service with the ACPO. 
Procopio holds a Bachelor's Degree from Arizona State University and he is a lifelong Atlantic County resident.