UPDATE: Tractor-Trailer Kills Brazilian Bicyclist in Newark's Ironbound Section
Submitted by
RLS Staff
on Jul 11 2018 - 8:36pm.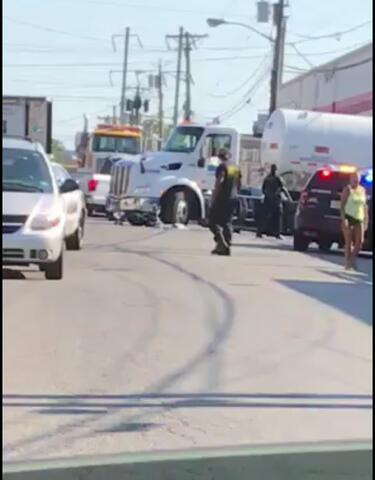 IN PORTUGUESE BELOW
A horrible accident that had a bicyclist crushed by a tractor-trailer in Newark's Ironbound section on Tuesday evening is under investigation.
Newark East Ward residents contacted RLS Metro Breaking at approximately 5:30 p.m. pointing our staff to the vicinity of Thomas and Adams streets where we observed a crime scene and what appeared to be a body under a sheet with a damaged bicycle nearby.
A request for public information from The Newark Police Department swiftly pointed us in the direction of the Essex County Prosecutor's Office who confirmed the fatality this evening at 8:12 p.m.
Officials said in a brief statement, at around the indicated time frame, Mr. Renato Roberto Gomes, 42, of Newark was struck by a tractor-trailer at the intersection of Adams and Thomas streets causing severe injuries.
Medical personnel pronounced Mr. Gomes dead at the scene according to the Essex County Prosecutor's Office.
The incident remains under investigation and there were no reports of arrests.
Portuguese: Um acidente horrível que teve um ciclista esmagado por um trator-reboque na seção Ironbound de Newark na noite de terça-feira está sob investigação.
Os moradores da Newark East Ward entraram em contato com a RLS Metro Breaking aproximadamente às 17h30. apontando nossa equipe para a vizinhança das ruas Thomas e Adams, onde observamos uma cena de crime e o que parecia ser um corpo sob um lençol com uma bicicleta danificada por perto.
Um pedido de informação pública do Departamento de Polícia de Newark rapidamente nos apontou na direção do Ministério Público do Condado de Essex que confirmou a fatalidade nesta noite às 8:12 da tarde.
Autoridades disseram em um breve comunicado, por volta do prazo indicado, que Renato Roberto Gomes, 42, de Newark, foi atingido por um trator-reboque no cruzamento das ruas Adams e Thomas, causando ferimentos graves.
O pessoal médico declarou o Sr. Gomes morto no local de acordo com a Procuradoria do Condado de Essex.
O incidente continua sob investigação e não houve relatos de prisões.