Newark
Newark Police report the arrest of Ahjhir K. Jones, 18, Sharieff N. Copeland, 26, and a 15-year old male, all of Newark, in connection with a stolen vehicle and recovery of over 100 stolen vehicle key fobs on Wednesday, January 19. 
According to police officials, just before 8:10 a.m., police observed three males sleeping inside a stolen black 2015 Audi in the 100 block of Parker Street. 
Police said that the 15-year old in the driver's seat was found in possession of the key fob for the Audi, reported stolen out of Woodbridge. 
A group of 16 individuals had broken into the Car Revolution dealership and stole 12 vehicles and the key fobs to various vehicles, according to police. 
Police officials said that inside the stolen Audi, Police also located several additional key fobs, a bolt cutter, and a crowbar.
Later that day, police located a vehicle that was stolen from Dente's Towing in Newark. The stolen vehicle was found in the area of Mapes Avenue and Weequahic Avenue. 
Police also located a black Dodge Ram pick-up truck in the 300-block of South 12th Street. This vehicle had been stolen out of Suffolk, NY. 
According to police, the 15-year old male arrested in the Audi at Parker Street was also found in possession of a key fob to each of these stolen vehicles. 
With the consent of the pick-up's owner, police searched the vehicle and located 139 key fobs stolen from Woodbridge Car Revolution inside the Dodge Ram.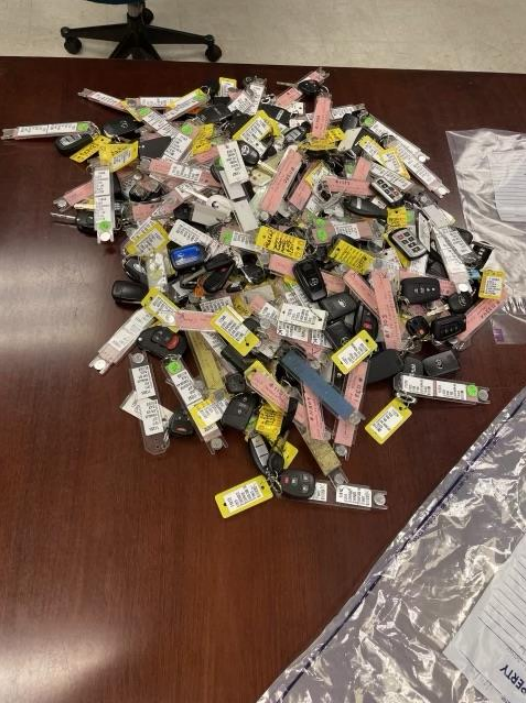 The three suspects were arrested, and each faces a charge of receiving stolen property. 
The investigation remains ongoing.