Somerset County
Somerset County officials announced a collaborative Operation Helping Hand (OHH) 2nd Annual Overdose Awareness and Recovery Event being held on Saturday, August 27, at TD Bank Ballpark, home of the Somerset Patriots, Bridgewater.  
International Overdose Awareness Day is a global event that takes place on August 31 to raise awareness of overdosing and to honor the individuals whose lives have been lost to the disease of addiction.  
The Counties of Somerset and Warren acknowledge that those affected by substance use disorders and overdose are our neighbors, family and friends.  
They deserve our compassion and support as they navigate the road to recovery or grieve the loss of a loved one.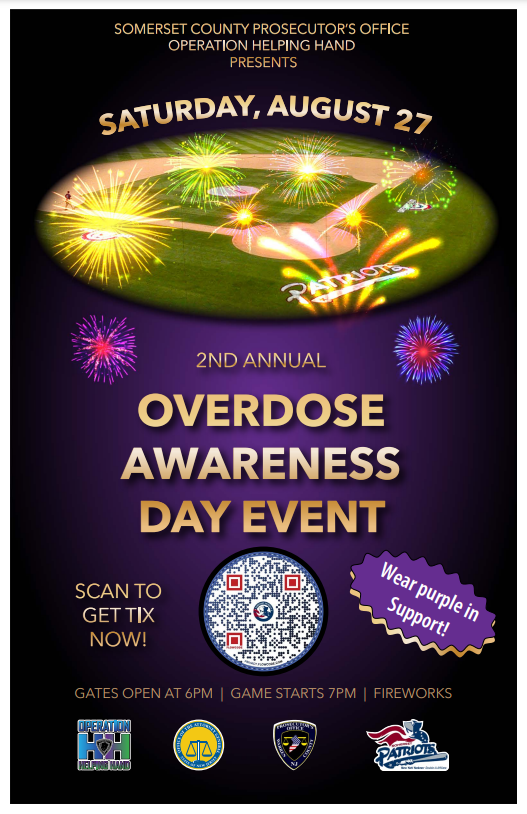 In recognition of this day, Somerset and Warren County Operation Helping Hand Initiatives will join to show support to those in recovery, honor the many lives lost to addiction, and educate the community that overdose is preventable.  
This event is in collaboration with the following: Community in Crisis (Bernardsville), EmPower Somerset – Pioneer Family Success Center (Somerville), Parent to Parent Addiction Services (Washington), Prevention Links (Roselle), Recovery Centers of America, Somerset County Department of Human Services (Somerville), Somerset Treatment Services (Somerville), and The Greater Raritan Workforce Board – Pathways to Recovery (Somerville).  
In addition, the New Jersey State Department of Human Services, Division of Mental Health and Addiction Services has donated naloxone kits to be distributed on game day to those in the community that are at risk of experiencing an opioid overdose or will be in a position to administer the opioid antidote to a person experiencing an opioid overdose.
Funding for the OHH program comes from a grant provided by the New Jersey Office of the Coordinator for Addiction Responses and Enforcement Strategies (NJ CARES), the Office within the New Jersey Office of the Attorney General that coordinates the addiction-fighting efforts of the Department of Law and Public Safety relating to the opioid epidemic.  
In 2016, Bergen County Prosecutor's Office developed an innovative prosecutor-led program known as OHH, whereby law enforcement actively links individuals with substance use issues to treatment and/or recovery services. The traditional model involves law enforcement officers arresting individuals purchasing heroin or other narcotics at open-air drug markets and then immediately offering to link those individuals to care. 
In 2018, the Department of Law & Public Safety expanded the Bergen County OHH model to four additional counties, and thereafter, supported by funding from the Centers for Disease Control and Prevention, OHH was expanded to 17 counties. 
Thanks to $2.2 million in Governor Murphy's Opioids Funding, OHH became operational in all 21 counties in 2019. 
Some counties continue to operate traditional, arrest-based OHH programs, while others have chosen to have law enforcement proactively link individuals suffering from substance use issues to treatment and/or recovery services through non-arrest means such as roving vehicles, Superior Court or Municipal Court programs, and direct outreach to those identified as most at-risk of overdosing.
Somerset County residents: Prosecutor McDonald and Chief Fodor request that anyone seeking addiction services offered to kindly reach out to OHH by calling (908) 393-8888 or the Somerset County OHH website at https://bit.ly/somersetohh; or emailing ohh@co.somerset.nj.us to be connected to services.  
Warren County residents:  Prosecutor Pfeiffer and Chief Devlin urge those in need to contact Parent to Parent Addiction Services via (908) 223-1951 to be linked directly to services.