Union County
As the nation continues to reckon with the effects of the COVID-19 pandemic, the seventh annual Union County Day of Prayer will serve as "A Memorial Service to Those in Our Memory" on October 6.
The event will be held at 7 p.m. at Holy Trinity Roman Catholic Church in Westfield and is sponsored by Union County Interfaith Coordinating Council and Community Access Unlimited. 
The annual Day of Prayer brings the community and leaders of different faiths together for an evening of music, prayers of unity and reflective readings. 
UCICC works to build bonds within the interfaith community and promotes the respect, inclusion and welcoming of others at houses of worship.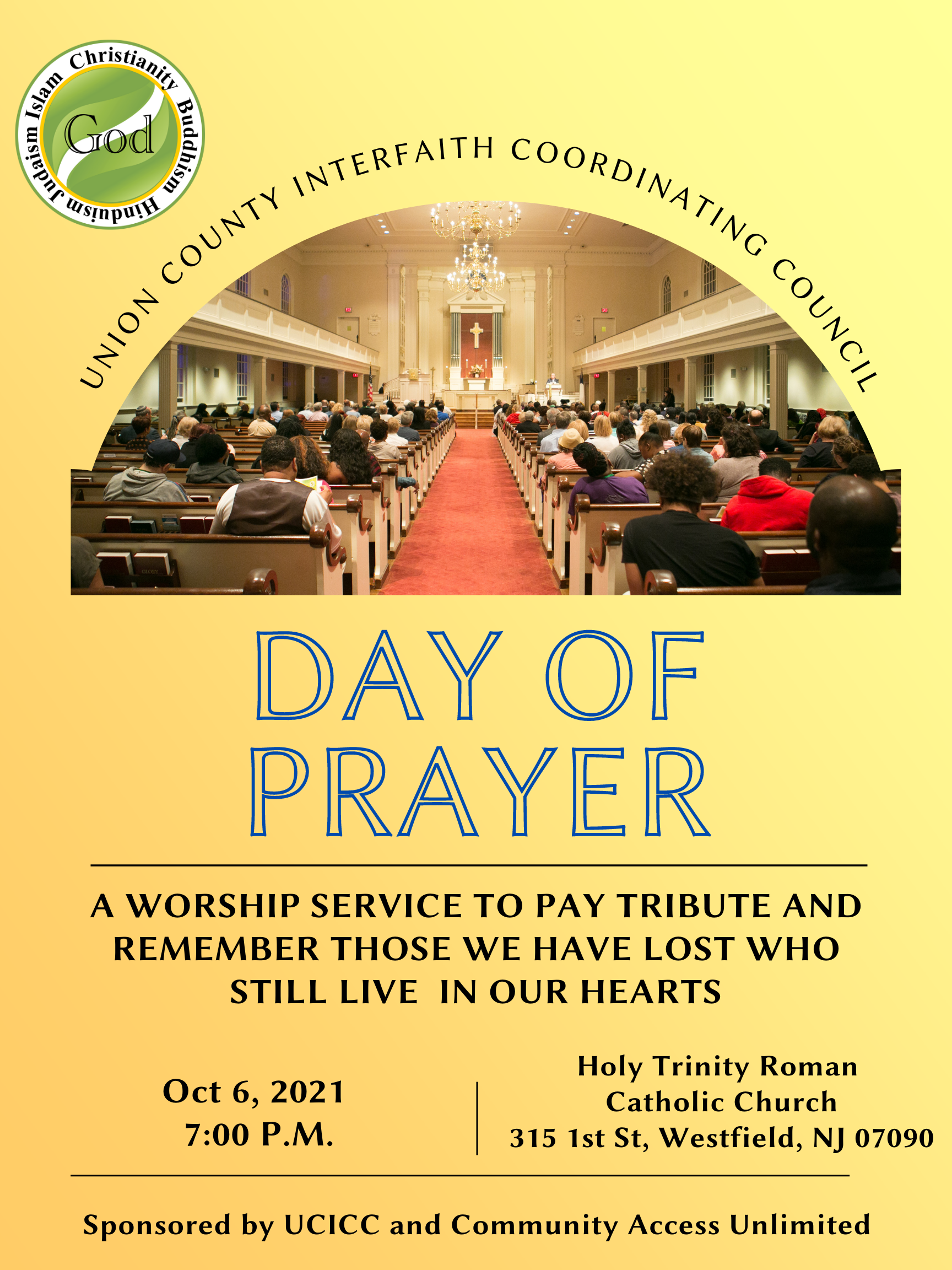 "We cannot do justice to all of the lives that have been taken from us at the Union County Day of Prayer on October 6, but we can begin to do so together," Pastor Carmine Pernini of Zion Evangelical Lutheran Church in Rahway said. 
"We can take a few small steps to appreciate the gift that is the life we have yet to live together by honoring those loved ones, those impossible times we have made it through, and those trials that have forged who we are and will be from this side of the pandemic."
The event includes speakers, musicians and readers representing major Abrahamic and Indian religions; among the performers scheduled are students of the Muslim Community Center of Union County and Eliezer Almonte of Communidad Cristiana in Elizabeth.
Masks are required, and attendees will observe social distancing.
UCICC works closely with Community Access Unlimited to promote accessibility in the local faith community for individuals with developmental disabilities. 
Past events have included weekly interfaith services and introducing members to different houses of worship in the area. 
"Religion and communities of faith are an important part of spiritual life that everyone should have access to regardless of their abilities and needs," Walter Kalman, associate executive director of Advocacy, Communications and Resource Development at CAU, said. 
"We are proud of our continuing partnership with UCICC and the growing community and teamwork it has fostered."