New Jersey
New Jersey State Police Superintendent Colonel Patrick J. Callahan today warned residents about a serious spike in motor vehicle thefts across the state while noting that stolen vehicles are frequently used to commit other violent crimes.
To address this growing concern, the New Jersey State Police and Division of Criminal Justice are expanding the Auto Theft Task Force by adding additional detectives and prosecutors, as well as bringing on board additional police departments from around the state.
In addition, Acting Attorney General Platkin is also making available up to $125,000 in federal Justice Assistance Grant (JAG) funds to bolster resources and capabilities for the Task Force, including law enforcement personnel and equipment purchases.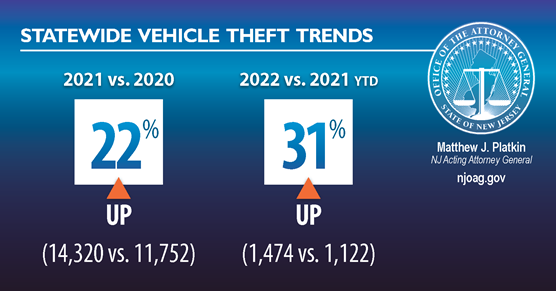 Through increased overtime reimbursements for assigned law enforcement members, the Task Force will be able to expand its scope and coverage. 
JAG funds can also be used to procure automated license plate readers to enhance its operational capacity, helping Task Force personnel more quickly identify criminal actors and take them off the street.
As crime rates rise around the country, Acting Attorney General Platkin's focus on the increase in auto theft and related crimes in New Jersey reflects his and the Department of Law & Public Safety's commitment to and prioritization of reducing violent crime in the state.
In 2021, there were a total of 14,320 vehicles reported stolen in New Jersey, a 22 percent increase in overall thefts compared to the year before.
In addition, State Police analysis reveals a substantial nexus between cases involving receiving stolen property—including stolen vehicles—and shootings. Last year the State Police reported 3,075 arrests involving receiving stolen property; most auto theft cases in New Jersey are charged as receiving stolen property.
Of those arrested for receiving stolen property, 211 were involved in 377 shootings, and 285 were captured with a firearm.
According to data from the New Jersey Regional Operations & Intelligence Center (ROIC), auto theft is up 31 percent in the state's so-called CorrStat Region, representing more than 80 municipalities in northeast New Jersey along the Route 21 corridor including Newark.
This area accounts for 63 percent of the state's total motor vehicle thefts.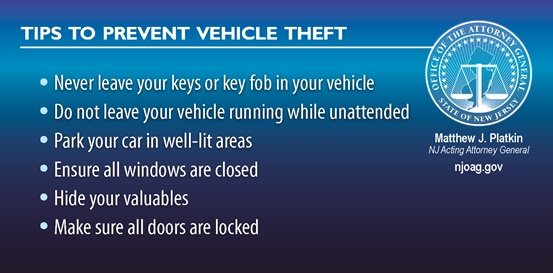 However, car thefts are happening all over New Jersey, in the suburbs as well as larger cities. In January of this year, municipalities including Monroe, Edison, Franklin Township (Somerset County), Ocean Township, Oceanport, and Hamilton Township (Mercer County) reported motor vehicle thefts with subsequent burglaries into victims' residences.
The offenders associated with these crimes often have violent and property crime-related criminal histories and connections to violent gangs. This adds to the growing concern over the connection between auto theft and more serious crimes like shootings and robberies.
According to the State Police, the vast majority of auto thefts involve vehicles stolen when the key fob is left in the car or the car is left running. These incidents are commonly referred to as "crimes of opportunity."
Thieves may commit several vehicle burglaries before finding a vehicle with a key fob to steal. Criminals use simple techniques—shared among car thieves via social media or by word of mouth—to steal vehicles and disable factory navigation systems.
"Motor vehicle theft is a growing public safety issue that can lead to dangerous and even deadly confrontations between thieves and their victims, bystanders, or law enforcement officers," said Acting Attorney General Platkin. 
"Expanding the Auto Theft Task Force demonstrates our commitment to reversing this trend while advancing our goal of apprehending criminals, recovering vehicles, and preventing violent crime.
Reducing violent crime is a top priority for me, and we will do everything in our power to curb these thefts and keep our neighborhoods and residents safe.
Meanwhile, we implore residents not to make it easy for car thieves by leaving a key fob in your car—not even for a moment—because your stolen vehicle could be used in the commission of a violent crime."
Acting Attorney General Platkin today offered the following tips to prevent vehicle theft:
Never leave your keys or key fob in your vehicle;
Do not leave your vehicle running while unattended;
Park your car in well-lit areas;
Ensure all windows are closed;
Hide your valuables; and
Make sure all doors are locked.  
"The New Jersey State Police has been dedicated in our efforts to curb this growing trend, but the increase in motor vehicle thefts cannot be denied," said Colonel Patrick J. Callahan, Superintendent of the New Jersey State Police.
 "The public has to realize this is an authentic and hazardous problem that has implications far beyond the initial theft of a vehicle and carries into the realm of violent crime.
The technological resources at our disposal have allowed us to identify critical trends and target offenders but to avoid becoming a statistic yourself, secure your vehicle and take the key or key fob with you."
"Auto theft is a growing factor in violent crime across New Jersey," said Director Lyndsay V. Ruotolo of the Division of Criminal Justice. "While auto thieves are continuously evolving and adapting their techniques, we too are committed to adapting our approach and collaborating with all of our law enforcement partners to investigate and aggressively prosecute these crimes."
"Auto thefts have been increasing substantially throughout the State in recent months, and have a ripple effect on other, violent crimes in which stolen cars are frequently used," said Burlington County Prosecutor Scott Coffina, President of the County Prosecutors Association of New Jersey.
 "We appreciate the Acting Attorney General addressing this growing problem as one of his priorities and look forward to working with him on this initiative."
To address the growing number of motor vehicle thefts, the New Jersey State Police established the Auto Theft Task Force. Since its inception in 2015, the task force has continued to expand. It is currently comprised of 16 members, six of which are Task Force Officers (TFOs) from six partnering agencies, including the Division of Criminal Justice (DCJ) and the Westfield, Warren, Bernards, Middletown, and Paramus police departments.
The Task Force is currently in the process of expanding to include new assets, with the potential to grow further if circumstances warrant. In 2021, the Auto Theft Task Force conducted 33 vehicle theft investigations, made 75 arrests, seized five firearms, and recovered 130 stolen vehicles valued at approximately $5,690,000.
Meanwhile, the ROIC collects and shares actionable intelligence and analysis in real-time to allow law enforcement agencies to arrest suspects, retrieve vehicles, and prevent motor vehicle thefts across New Jersey.
The ROIC also facilitates monthly regional crime reduction strategy meetings attended by federal, state, county, and local executive leadership, investigators, analysts, and prosecutors to discuss crime trends and develop mitigation strategies.
This is a unique situation in law enforcement where a large group of senior-level law enforcement decision-makers is collectively briefed on timely, inter-jurisdictional crime trends of mutual concern, allowing them to develop shared solutions to shared problems.