New Brunswick
The Rutgers University Police Department has commenced its 2022 hiring process! 
The Rutgers University Police Department's goal is to recruit and attract a diverse pool of qualified individuals to pursue a career with the Rutgers University Police Department, joining the sworn law enforcement ranks. 
The RUPD officers participate in the Police and Fire Retirement System (as applicable) with state benefits and enjoy a variety of employment benefits, including tuition remission and extensive training/professional development.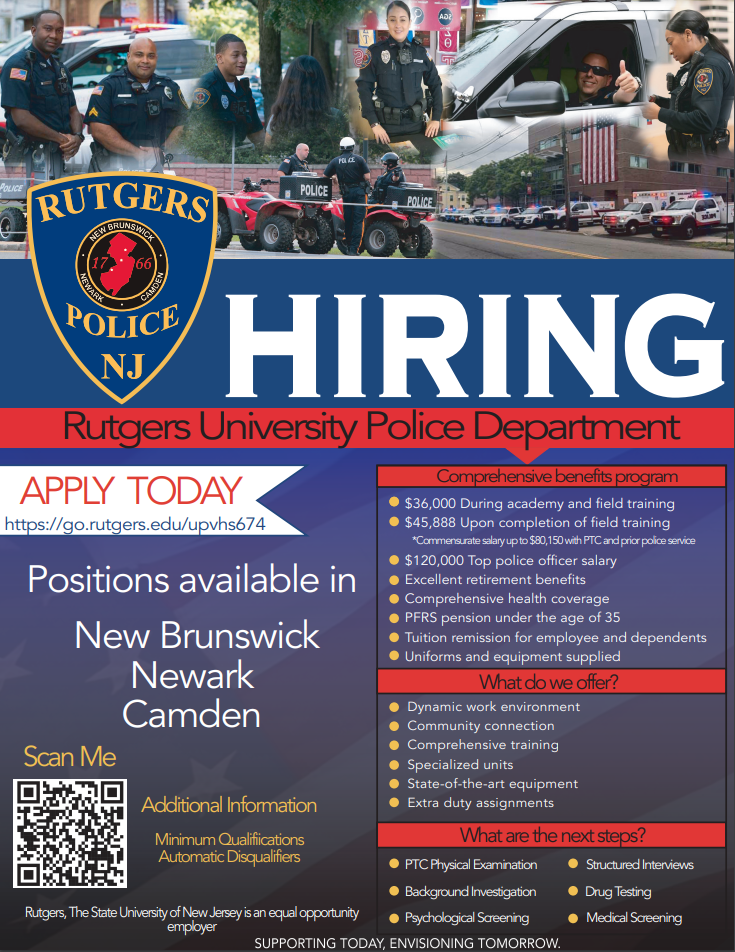 The Rutgers University Police Department (RUPD) is one of only fourteen law enforcement agencies within the state to have achieved advanced law enforcement accreditation through the Commission on Accreditation for Law Enforcement Agencies (CALEA). 
Successful candidates will be assigned to the New Brunswick, Newark, or Camden campus based on the operational needs of the Rutgers University Police Department, serving our community of nearly 100,000 people. 
RUPD welcomes the opportunity to host a brief information session/hiring overview with your organization (or class) for potential candidates.  
The department asks you to share the current posting with any and all interested and qualified individuals interested in serving the university and state as a police officer.
The application deadline for these positions is March 2, 2022, at 11:59 PM.  
The current posting can be accessed at https://ipo.rutgers.edu/publicsafety/employment.
General questions should be directed to rupdemployment@ipo.rutgers.edu.
It is university policy to provide equal employment opportunities to all employees and applicants for employment regardless of their race, religion, color, national origin, ancestry, age, sex, sexual orientation, gender identity and expression, disability, atypical hereditary cellular or blood trait, marital status, civil union status, domestic partnership status, military service, veteran status, or any other category protected by law.