Newark
Residents reported over 300 dirt bikes and illegal ATVs rode recklessly in several parts of Newark's North Ward Sunday. 
Residents in that section of the city are flipping out over lawless all-terrain vehicles terrorizing their neighborhood by performing stunts and speeding through several neighborhoods with unlawful vehicles. 
At approximately 4:20 p.m., police patrolling Broadway noticed hundreds of the vehicles along the stretch of the road from the Belleville border to Elwood Avenue. 
Police were able to disperse several large crowds but no arrests have been reported. 
"What's up with the constant ATV brigade up and down Broadway all day and night? It's totally annoying and actually scary!!" a concerned Newark resident posted to the 4,000-members on a North Ward Facebook page yesterday. 
While complaints are up of reckless riding in Newark's neighborhood, Newark Police officials said arrests and summonses are on the rise as well. 
In April, officials announced a new police operation enforcing the removal of illegal dirt bikes and all-terrain vehicles, with nine dirt bikes and nine ATVs confiscated during its first week.
"Newark residents deserve safe streets, and ATV and dirt bike riders often come here from other towns jeopardizing that safety," Mayor Baraka said.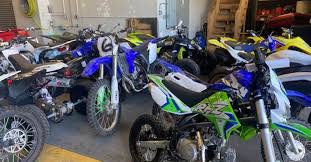 "Aside from the public nuisance they make at night—revving up their engines and popping wheelies when residents are trying to sleep—drivers of these illegal vehicles usually try to "take over" a city neighborhood as their own personal rally trail.
During the start of the initiative, Newark Police officials in a statement confirmed 59 motor vehicle summonses issued associated with dirt bikes or ATV use but residents in the city's North Ward police have a long way to go.
There were over 300 riding around Sunday. 
"There are no laws anymore. I've never really seen anything like this, a resident posted on the Facebook page. "I almost hit a brigade [of ATVs] yesterday because I thought they were stopping, but they didn't."
Police Director O'Hara addressing the concern in April said this is not just a problem in Newark, but in cities across the country. 
"What we continuously hear from residents is that it's a serious disruption to their quality of life and we are safely addressing the concern," Director O'Hara said back in April.