Newark
By: Richard L. Smith 
As Newark and the North Jersey Region bask in the glory of a beautiful day, our neighbors in New York City are gearing up for the highly anticipated TCS NYC Marathon.
Runners and spectators alike can rejoice in the near-perfect weather conditions forecasted for the event.
Starting the day at a mild 47 degrees, with Kearny, Harrison, and East Newark experiencing similarly pleasant conditions, runners will be greeted by mostly sunny skies as they hit the pavement.
According to meteorologists at The National Weather Service, Sunday's high is expected to reach around 64 degrees, with a calm wind gradually becoming northward at approximately six mph in the afternoon.
Tonight, as temperatures drop, the weather will remain mostly clear, with a low of around 41 degrees and a north wind blowing at about eight mph.
For those eager to catch the marathon action, you can tune in to the live and comprehensive coverage provided by the excellent broadcasters over at ABC7-NY, beginning at 7 a.m.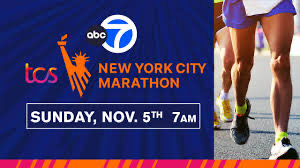 Let's celebrate this day of ideal weather and wish all the marathon participants the best of luck in their run!