Newark
By: Yuritza Arroyo
The holiday season brings joy and cheer to those celebrating, but for some can also bring a financial strain.
According to officials, as the holiday season kicks off, United Way of Greater Newark has worked with dedicated partners to host financial workshops and events covering a range of topics surrounding financial stability.
The "Season of Savings" operates with virtual and in-person info sessions and hands-on assistance on Nov. 30, Dec. 1, and Dec. 7. 
"Financial difficulties can cause the holidays to be a difficult time for some members of our community," United Way of Greater Newark President & CEO Catherine Wilson said. "This time of year especially, it is imperative to work with our dedicated partners and provide information about financial programs that can relieve some of the financial strain from families."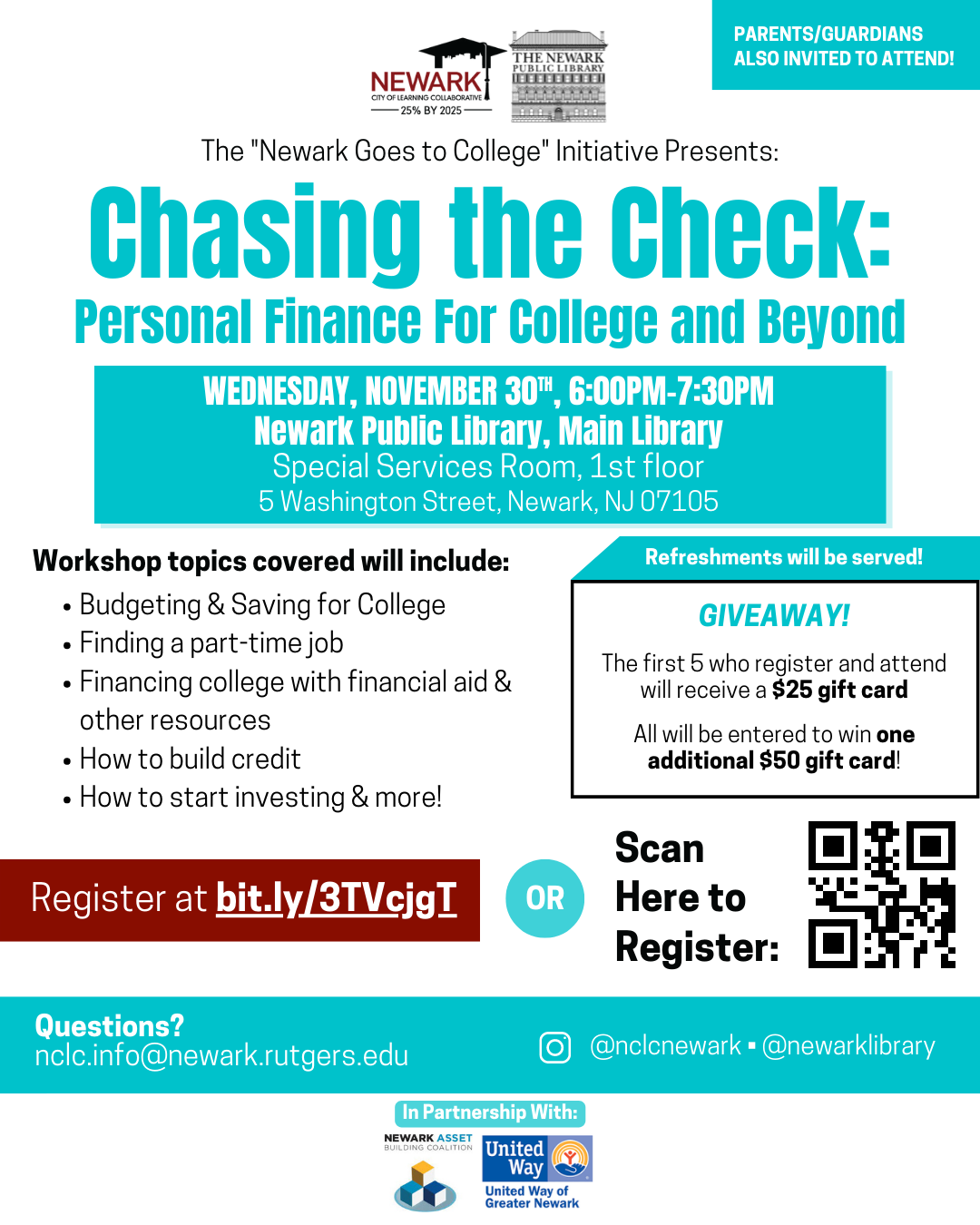 On Wednesday, Nov. 30, Newark City of Learning Collaborative (NCLC), UWGN, and the Newark Asset Building Coalition (NABC) will host the Chasing the Check: Personal Finance for College and Beyond workshop from 6 p.m. - 7:30 p.m. in the Newark Public Library Special Services Room on the first floor (5 Washington St., Newark NJ 07105).
The workshop will cover key topics that drive the financial success of current and prospective college students, such as budgeting, finding the right part-time job, financial aid, applying for your first credit card, and how to invest your money.
"Financial capabilities are incredibly important for everyone, especially for those graduating and starting out on their lives after high school," NCLC Strategic Partnerships Manager Danielle Cohen said. "At NCLC, our goal is to help students be aware of financial aid tools like FAFSA and scholarships. We believe that not only is financial readiness a key component of college readiness, but also a tool for financial empowerment."
The series continues on Thursday, Dec. 1, with a virtual Hot Topics for Cold Weather workshop from 6 p.m. - 7:30 p.m.
The virtual event will provide Newark residents with financial tips to save them some money this holiday season. UWGN, the NABC, Ironbound Community Corporation, La Casa de Don Pedro, and New Jersey Citizen Action came together to provide the most up-to-date information about cost-saving programs and the best advice on how to stick to a holiday budget.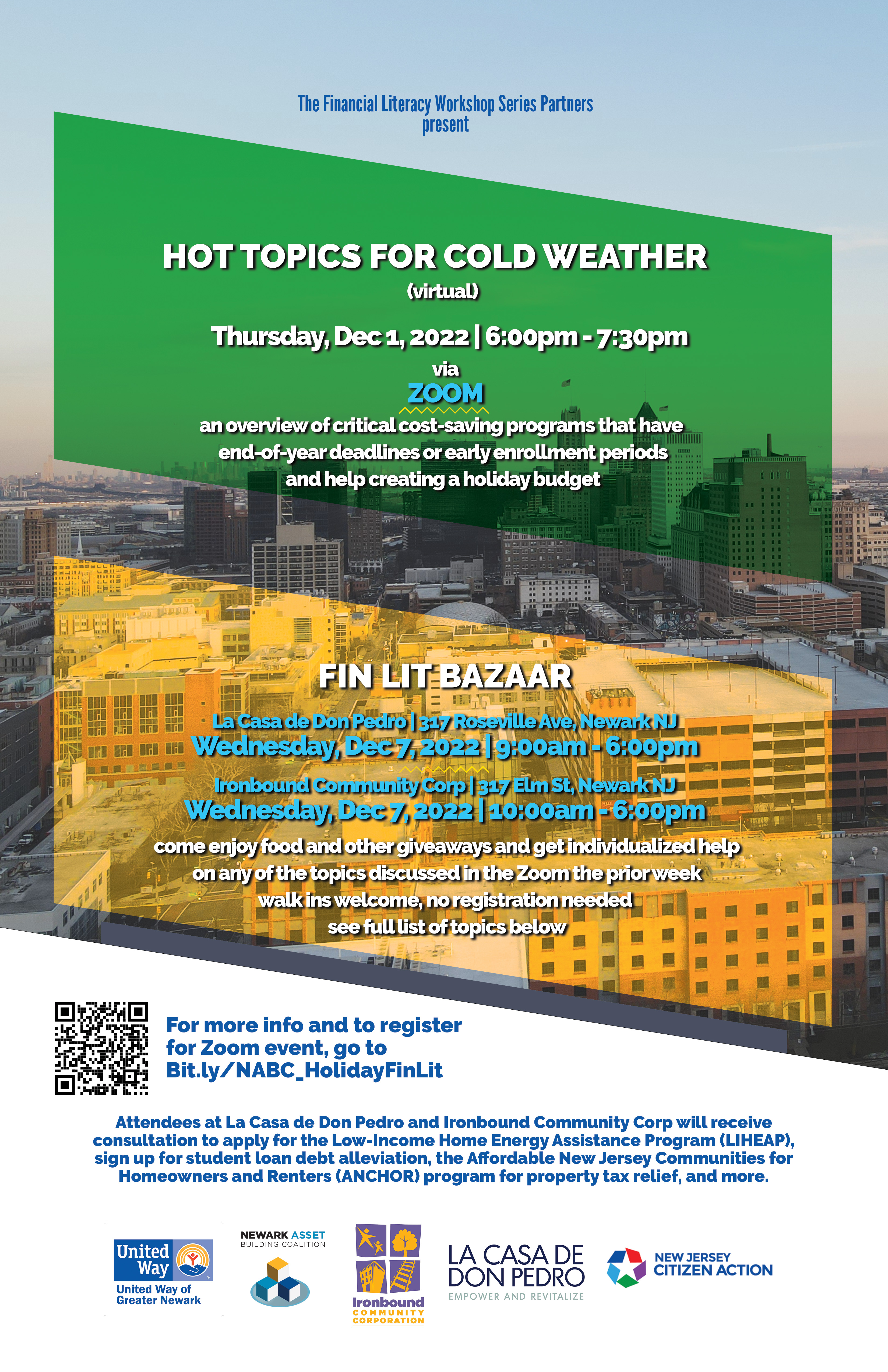 "The focus on this whole series is cost saving," UWGN Director of Financial Stability Danielle Corea-Smith said. "We want our attendees to understand how to avoid a cost or how to get money back through programs that they qualify for."
On Wednesday, Dec. 7, La Casa de Don Pedro and Ironbound Community Corporation will participate in a Fin Lit Bazaar to provide on-site assistance for topics and programs covered in the virtual workshop.
La Casa will provide assistance from 9 a.m. - 6 p.m. at 317 Roseville Ave. in Newark and Ironbound Community Corporation will provide assistance from 10 a.m. - 6 p.m. at 317 Elm St. in Newark.
Attendees will receive a consultation to apply for the Low-Income Home Energy Assistance Program (LIHEAP), sign up for student loan debt alleviation, the Affordable New Jersey Communities for Homeowners and Renters (ANCHOR) program for property tax relief, and other potential saving opportunities. 
"With winter weather on the way and new eligibility guidelines allowing more households to qualify, it is more important than ever to submit your yearly LIHEAP application and supporting documentation to access the benefits available," La Casa de Don Pedro Community & Economic Development Director Louis Prezeau, Jr. said.
"My goal is for this to make matches between community members and agencies that can help them," Corea-Smith said. "I want this to generate foot traffic to our non-profit partners and for people to follow through with taking advantage of these programs."