Newark
Newark Police requests the public's help with identifying the below-pictured suspect, who stole a victim's automobile on May 7. 
According to police officials, at approximately 1 p.m., the suspect, a Black male, was captured on surveillance video taking a white BMW X5 from in front of a residence in the 200 block of South 10th Street.  
Police said that the suspect is described as approximately 5'9" with an average build. 
According to police, he was wearing a green sweatshirt with a hood, brown sweat pants, and black and white sneakers.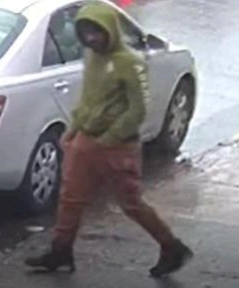 Police said that he drove away heading southbound on South 10th Street.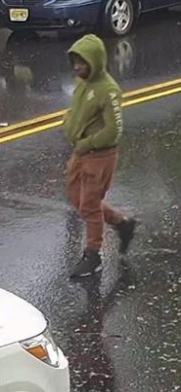 Newark Police officials urge anyone with information about the suspect to call the Police Division's 24-hour Crime Stopper tip line at 1-877-NWK-TIPS (1-877-695-8477). 
All anonymous Crime Stopper tips are kept confidential and could result in a reward.  
Anonymous tips may also be made using the Police Division's website at: www.newarkpd.org.