Newark
Newark Police request the public's help locating a white 2020 Jeep Grand Cherokee sought in connection with a business robbery that occurred on Sunday, January 30.
According to police officials, at approximately 1 a.m., police responded to the Mobil Gas station, located at 1139-1153 Broad Street, on a call of a robbery. 
Police said that the vehicle pulled into the gas station, and a male suspect exited the back seat and demanded cash from the attendant while clutching an item in his waistband. 
The attendant ran away, and the vehicle, which was occupied by at least three other males, fled, heading northbound on Broad Street.
According to police, the vehicle was reported stolen in Newark on Saturday, January 29, 2020.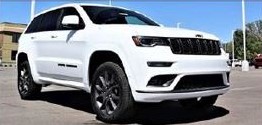 *Note: Not Actual Suspect Vehicle*
Police officials said that the suspect who exited the vehicle is described as a Black male, wearing a gray hooded sweatshirt, black jeans and black sneakers.
Newark Police urge anyone with information about the whereabouts of the suspect vehicle or the identity of any of the suspects to call the Newark Police Division's 24-hour Crime Stopper tip line at 1-877-NWK-TIPS (1-877-695-8477).  
All anonymous Crime Stopper tips are kept confidential and could result in a reward. 
Anonymous tips may also be made using the Police Division's website at: www.newarkpd.org.