Newark
On December 29, 2020, 58-year-old Bernard China, Newark resident and father of five, lost hope.
His heart failure had progressed to the point where he required hospitalization while he waited for a transplant, and he had been an in-patient at Newark Beth Israel (NBI) Medical Center, an RWJBarnabas Health facility for 112 days.
He told his wife, who, because of COVID-19 safety restrictions, he had only been able to see a handful of times since checking in on September 8, that he was feeling hopeless and was wanted to sign himself out of the hospital.
His wife encouraged him to stay strong, though.
"She was confident that it would work out," recalls Bernard. "She told me that we had to keep praying."
Early the next morning, their prayers were answered. At 1:30 a.m., a nurse came into Bernard's room and told him he had a call from his cardiologist, Dr. Saurabh Kapoor. Dazed and half awake, Bernard said it did not dawn on him why Dr. Kapoor was calling.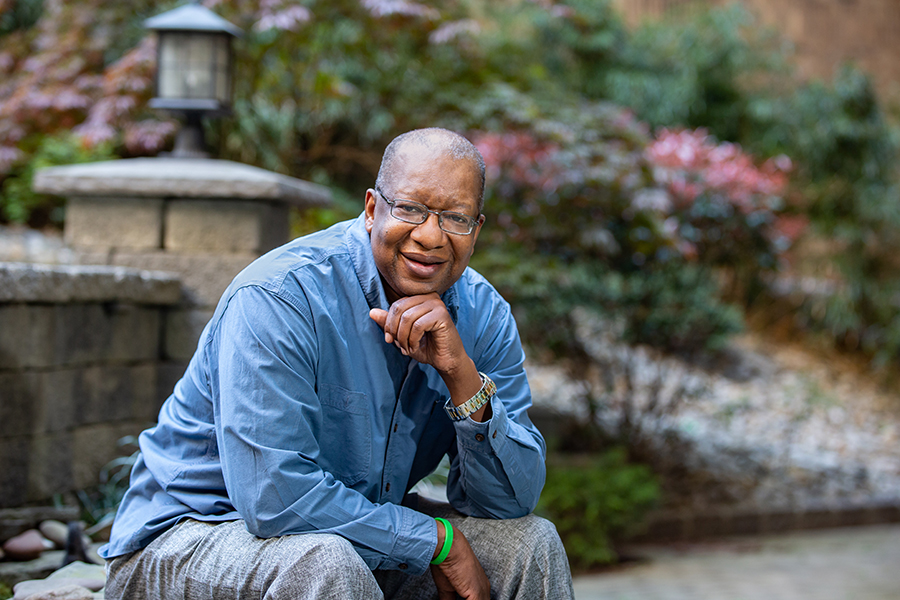 "He told me, 'Mr. China, this is Dr. Kapoor. We have your heart,'" said Bernard.
Bernard immediately called his wife, family, and friends to let them know the good news. By 1:45 a.m., the hospital staff was taking his blood, beginning to prep him for surgery.
"There was no way I could go back to sleep," said Bernard. "I was overwhelmed knowing I would get another chance at life."
August 2021 will mark five years since Bernard was first diagnosed with heart failure. He had never had any heart issues or complications before, but he was having trouble breathing one morning, so he drove himself to the hospital.
He was diagnosed with fluid around his heart (a sign of heart failure) and was admitted for a week and a half. Soon after, Bernard was put on several medications to manage his heart failure.
By the fall of 2018, his heart failure had progressed, and Bernard began the testing needed to get on the heart transplant list. 
While undergoing the testing, doctors discovered that Bernard had stage 3 prostate cancer. Before he could get on the heart transplant list, he would have to undergo radiation treatment, which he would receive at NBI to ensure an enhanced coordination of care for his complex condition.
His treatments were successful, and in January 2020, his prostate cancer was cleared. Bernard was back on the road to the heart transplant list. The testing began again.
On February 19, 2019, Bernard was lying in bed and called for his son. He noticed his voice was slurred.
When he got up, his arm was shaking. He got up to look at himself in the mirror, and his mouth was twisted.
He was having a stroke. He quickly told his 17-year-old son to call their mother, and he told his 12-year-old to call an ambulance.
He spent a week in the hospital recovering from his stroke, setting him back for the heart transplant again.
Finally, in September 2020, Bernard got confirmation that he was put on the heart transplant list. On September 8, he went to NBI to get a heart catheterization with Dr. Kapoor.
Bernard remembers that visit vividly.
"He told me, 'Your numbers are high, and I have to admit you and find you a heart,'" said Bernard.
It was a shock for Bernard, of course, but initially, he just thought he was going to be there for a week or so. He and his family were not prepared for him to be there for three months.
His wife was working from home, and all their kids were home as well with virtual school.
"It was a lot on my wife. A lot on me. I worried all the time," said Bernard. "With the COVID-19 restrictions, my children could not come to visit him, and my wife could only come on certain days and times."
Sometimes, Bernard's wife would come pull up outside with his kids, and they would wave to him through the window, eight floors up.
At night, they could only see his phone light up at the window.
Bernard spent the holidays in the hospital and had to watch his children open gifts through FaceTime.
On December 30, when Bernard received his transplant, his wife was able to be with him before they started surgery. She waited and prayed in the hospital the whole time the five-hour surgery took place.
Bernard recalls that when he woke up from surgery, the hospital staff was waiting at the door of his room, cheering him on. He would finally be discharged to go home and see his children on January 15, 2021.
Bernard recalls the moment and was emotional. His seven-year-old son hugged him through tears, and his five-year-old daughter would not leave his side. Bernard was happy to be home.
Now, almost five months post-transplant, Bernard is doing very well and is feeling better every day.
As a singer in his church's gospel choir group, he had trouble breathing normally and singing due to his heart failure, and he was forced to stop singing.
But now, his voice is coming back, and he is singing again. He looks forward to spending more time with his family and is thankful to the care team at NBI for having a second chance at life.
"Newark Beth saved my life," said Bernard. "More than once. I'm forever grateful for that."