Newark
BY: Najla Alexander
Newark officials report the return of Annual M&M's Halloween Treat Trunk!
Officials say for the eighth year in a row, M&M'S and Mars will bring the people of Newark– the birthplace and home of America's favorite bite-sized chocolate candies – together with the annual M&M'S Halloween Treat Truck experience, providing Halloween treats and family-friendly fun for all.  
The truck will make stops throughout the Newark community from Thursday, October 20 to Saturday, October 22.
The truck will be offering free Halloween costume accessories and candy-filled totes with an assortment of Mars candy.  
This year's event will bring even more fun and smiles, including a photo-worthy backdrop, karaoke stage, and illustration station to spark more fun and self-expressive moments.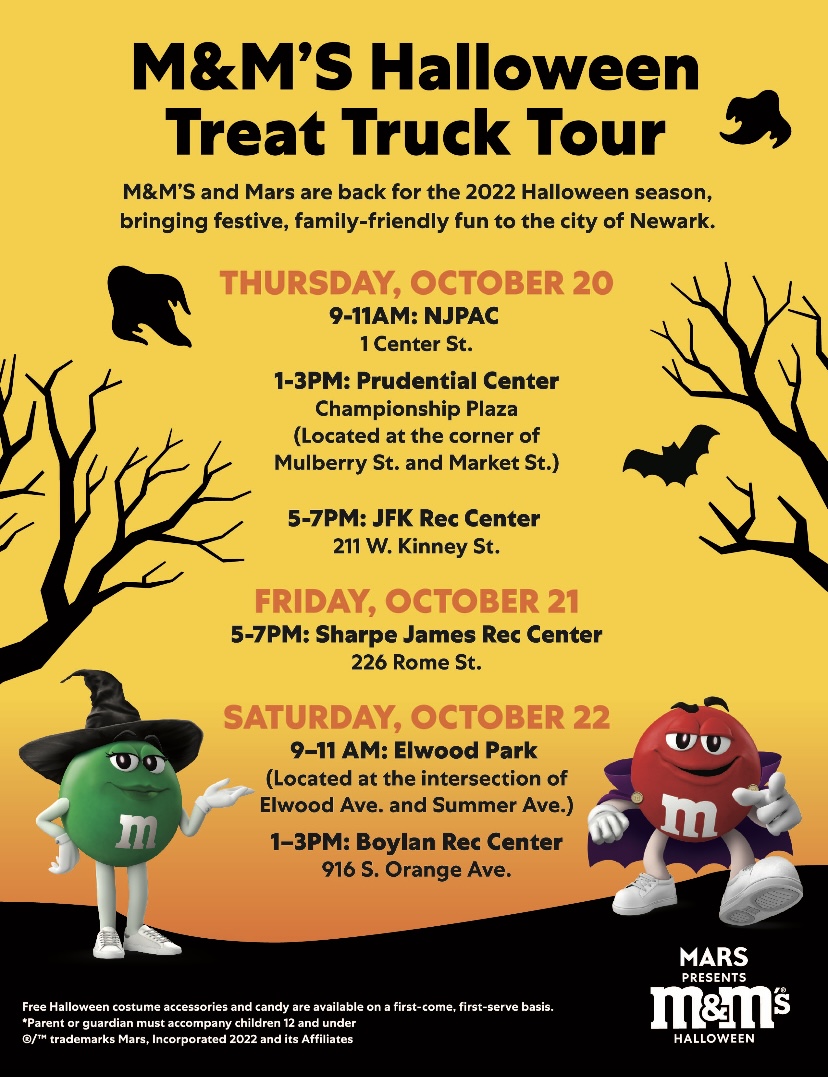 Newark residents are invited to visit the M&M'S Halloween Treat Truck at the following locations and times throughout the Newark community: 
Thursday, October 20
1.      9-11 a.m.: NJPAC - 1 Center St. 
2.      1-3 p.m.: Prudential Center - Championship Plaza (Located at the corner of Mulberry St. and Market St.)  
3.      5-7 p.m.: JFK Rec Center - 211 W. Kinney St.  
Friday, October 21
1.      5-7 p.m.: Sharpe James Rec Center - 226 Rome St. 
Saturday, October 22
1.      9-11 a.m.: Elwood Park - (Located at the intersection of Elwood Ave. and Summer Ave.) 
2.      1-3 p.m.: Boylan Rec Center - 916 S. Orange Ave.