Newark
By: Richard L. Smith 
Officials at The United States Department of Agriculture reported today that Dahlia Imports, LLC, a Newark, N.J. firm, recalled 96,624 pounds of raw bone-in goat products imported into the United States from Australia that were not presented for import re-inspection. 
According to the federal agency, the frozen, raw bone-in goat items were imported on or around April 11, 2022, and September 28, 2022. The following products are subject to recall: 
35.27-lb. cases of "BONE-IN GOAT CUBED PIECES" containing 2.2-lb. plastic bags of "BONE-IN GOAT CUBES" with shipping mark WEX11734A printed on the case.
35.27-lb. cases of "BONE-IN GOAT SKIN-ON CUBED PIECES BROWN" containing 2.2-lb. plastic bags of "BONE-IN GOAT CUBES BROWN SKIN-ON" with shipping mark WEX11734B, WEX11734C, or WEX11734D printed on the case.
Various weight (56-60-lb) cases of "BONE-IN GOAT ASSORTED CUTS BROWN SKIN-ON" with shipping marks WEX11734E, WEX11734F, WEX11533A, WEX11533B, WEX11533C, or WEX11533D printed on the case (no label available). 
The products subject to recall do not bear the USDA mark of inspection. Each box bears the Australia establishment seal "101."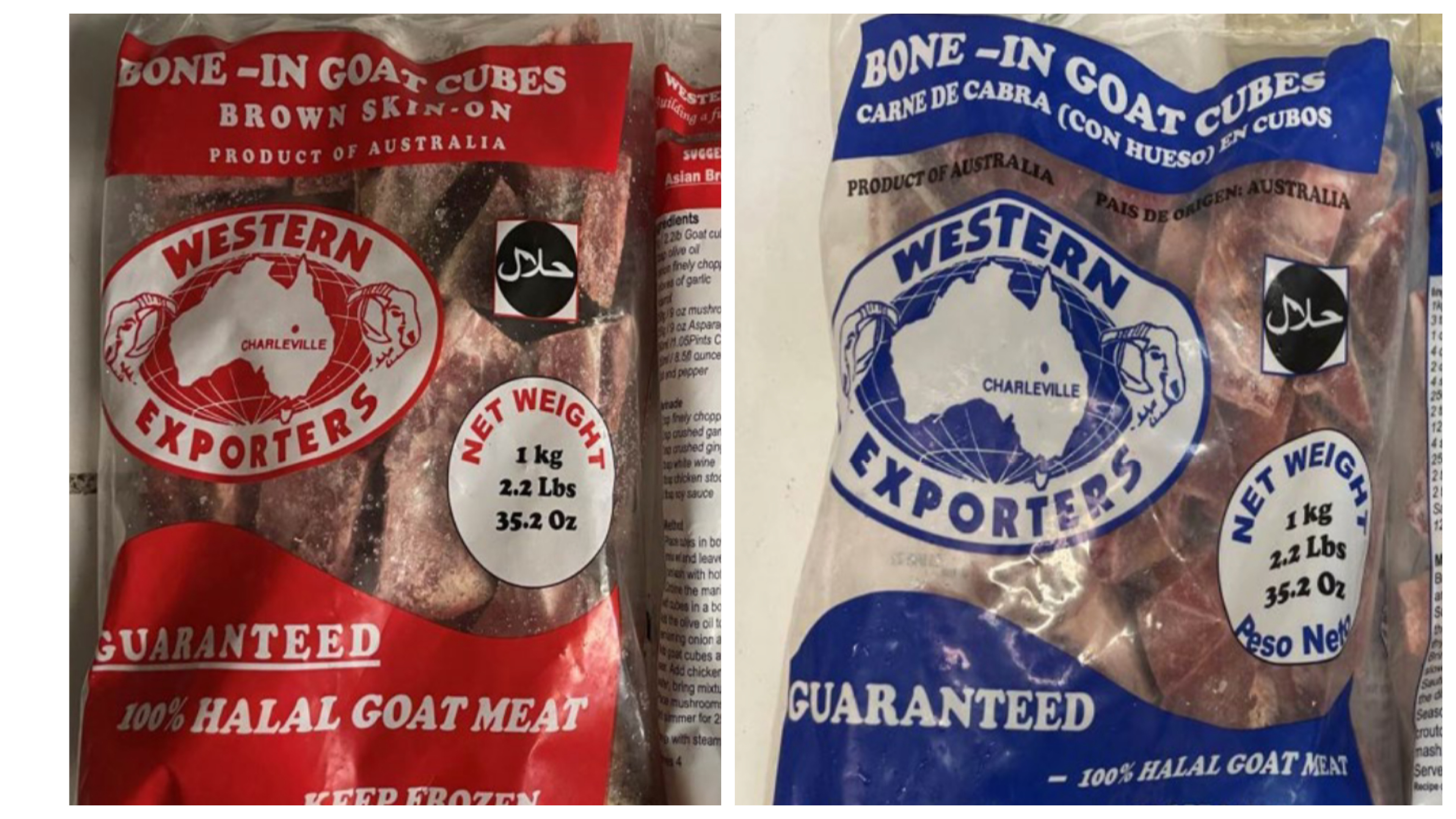 These items were shipped to California, North Carolina, New York, and Ohio distributors and were further distributed to Arizona and other states.
The problem was discovered during routine FSIS surveillance of imported products at retail stores.
There have been no confirmed reports of adverse reactions due to the consumption of these products. Anyone concerned about a reaction should contact a healthcare provider.

FSIS is concerned that some products may be in distributors' or retailers' freezers. Consumers who have purchased these products are urged not to consume them. These products should be thrown away or returned to the place of purchase.
FSIS routinely conducts recall effectiveness checks to verify that recalling firms notify their customers of the recall and that steps are taken to ensure the product is no longer available to consumers.
When available, the retail distribution list(s) will be posted on the FSIS website at www.fsis.usda.gov/recalls.