New Jersey

By Richard L. Smith 
The U.S. Department of Agriculture's Food Safety and Inspection Service (FSIS) has issued a public health alert regarding Never Any! brand ready-to-eat ham and cheese lunch kits containing chocolate chip cookies that may contain peanuts, a known allergen not declared on the product label.
Federal officials said this alert informs consumers with peanut allergies that this product should not be consumed. A recall was not requested as the products are believed to be no longer available for purchase.
The ham and cheese lunch kits with chocolate chip cookies were produced between June 27, 2023, and July 5, 2023.
The affected product is the 2.9-ounce plastic tray package labeled "NEVER ANY! UNCURED HAM & CHEESE LUNCH KIT" with a Use By date of "SEPT 18, 2023".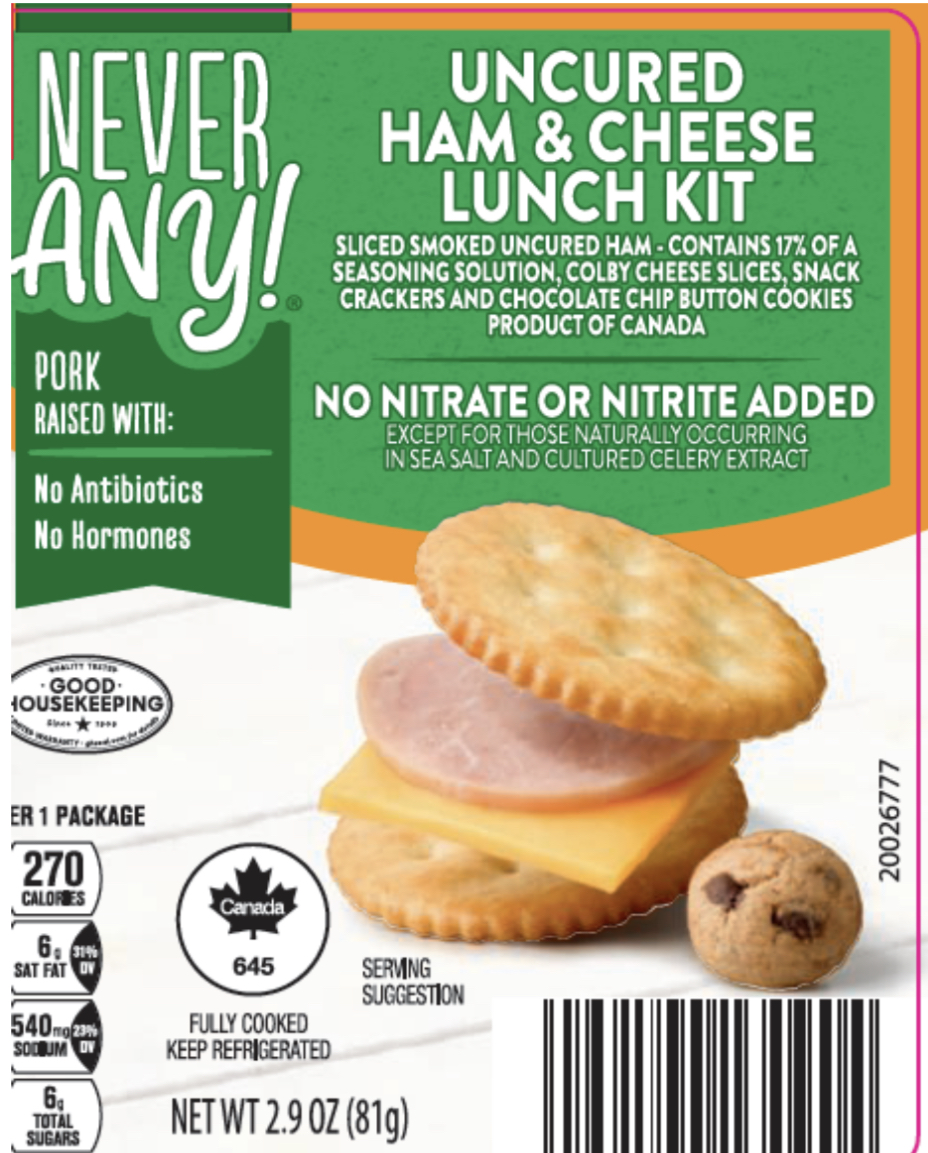 According to FSIS officials, these items bear establishment number "645" inside the Canadian mark of inspection and were distributed to retail locations nationwide.
Officials have not confirmed if any or the product was sold in New Jersey. 
The issue came to light when the producing establishment was alerted by their chocolate chip cookie supplier that the cookies may contain peanut residue.
This known allergen was not listed on the label.
Following this notification, the producing establishment promptly informed FSIS that the cookies were used in products distributed to the United States.
As of now, FSIS officials said there have been no confirmed reports of adverse reactions due to the consumption of these products. However, individuals with peanut allergies are urged to exercise caution and avoid consuming these lunch kits with the specified date and label.
If any consumer is concerned about possible injury or illness related to this product, it is advised to seek medical attention from a healthcare provider.
FSIS remains committed to safeguarding public health and ensuring consumer awareness about potential allergens in food products.
Consumers who have purchased the mentioned lunch kits are advised to refrain from consuming them and properly dispose of the products.
Additionally, individuals can contact the producing establishment or their place of purchase for further information or assistance.
As health and safety are paramount, we encourage all consumers to remain vigilant and informed about food safety alerts to protect themselves and their loved ones.