Jersey City
By: Yuritza Arroyo
Mayor Steven M. Fulop joined Public Safety Director James Shea, Police Director Tawana Moody, and Jersey City Police Officers at a swearing-in ceremony inside City Hall  to promote Jersey City's finest to the ranks of Sergeant, Lieutenant, and Captain.
Officials say, since 2013, Mayor Fulop has promoted over 470 JCPD officers in all ranks.
"From the start, we have taken our public safety goals to the next level by prioritizing diversity recruitment. With minorities representing nearly 75 percent of the over 700 officers we've hired, we are now able to promote more and more of these diverse police officers into supervisor roles," said Mayor Fulop.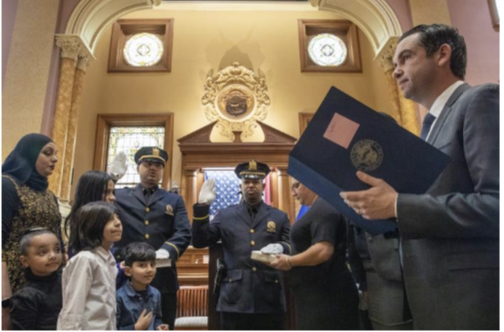 The Fulop Administration has consistently hired and promoted more police officers than previous administrations, as it is proven that adequate supervision is critical in carrying out the duties of any department.
Forty percent of today's newly promoted Captains represent minority populations, including Jersey City's first Muslim Police Captain. Of the new Sergeants, 67% are minorities - half of whom are Hispanic. Nearly 43% of the new Lieutenants are also minorities.
"We are very fortunate to have the best police officers in the state on the JCPD, and today's promotions are well-deserved.
This administration has prioritized public safety from the start, and growing our police force in both quantity and quality is one of the many successful strategies we have implemented under Mayor Fulop to improve public safety over the past nine years," concluded Public Safety Director James Shea.