East Orange
As the Essex County Prosecutor's Office takes over as lead investigating agency in the search for 14-year-old Jashyah Moore, the East Orange Fire Division joins the effort with a citywide canvassing campaign, while city officials invite the community to meet at City Hall Plaza on Friday, November 12 at 5:30 p.m. for a Candlelight Prayer Service.
The initial Crime Stoppers reward also has been increased to $20,000 thanks to the generosity of another anonymous donation from a local business owner.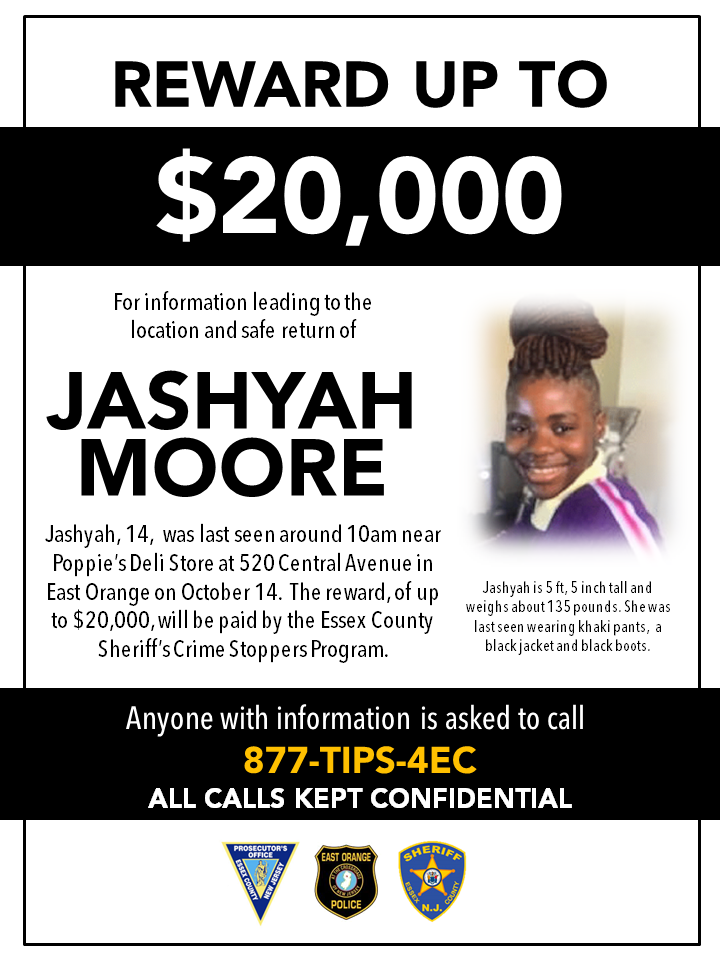 According to police, Jashyah was last seen on October 14 at Poppie's Deli at 520 Central Avenue, not far from her home. 
The missing young girl's mother told authorities she last saw Jashyah around 7:30 a.m. on October 14 after she never returned from a morning trip to the nearby store. 
Since then, the East Orange Police Division (EOPD) has been working in collaboration with the FBI, the New Jersey State Police, the Essex County Prosecutor's Office and the Essex County Sheriff's Office to follow all leads related to Jashyah's disappearance. 
According to deli employees and surveillance footage from that date, Jashyah entered the store with an older male who paid for her items at the register. 
Police said that the footage does not appear to show the two leaving together. That man was identified and interviewed by police; no foul play is suspected.
Last Saturday, to leave no stone unturned, the East Orange Office of Emergency Management (OEM) and EOPD also searched the pond at Monte Irvin Orange Park with the assistance of the Essex County Sheriff's Office, Bergen County OEM, Wyckoff Fire Department, Elmwood Park Fire Department, and the Emerson Fire Department. Crews used boats and sonar to search the pond but did not find anything.
Mayor Green and East Orange Police Chief Phyllis Bindi have been emphatically encouraging and supporting every effort that will uncover Jashyah's location.
"Jashyah is one of our own. As a parent and grandparent myself, this hits my heart hard, and I will not rest until she's found," Mayor Green said. "Her safety and well-being are our main focus, and we need everyone to be our eyes and ears to help us bring her safely home."
Starting Thursday, November 11, EOFD Fire Chief André Williams said firefighters and fire prevention personnel will begin distributing the missing fliers in neighborhoods where firehouses are located, as well as carrying copies to distribute while riding fire apparatus through town.
"We are parents, guardians, aunts, uncles and grandparents. When one member of our community is in danger, we are all at risk," Chief Williams said. 
"As public safety professionals, I am appealing to and encouraging my EOFD members to engage in the efforts to heighten awareness concerning Jashyah's whereabouts. It is our sincere hope that we may come across someone not on social media or watching the news who just might have valuable information that will lead us to Jashyah."
During a press conference held on Wednesday, Acting Essex County Prosecutor Theodore Stephens said that more than 50 dedicated law enforcement personnel have been scouring the area, retracing Jashyah's steps, reviewing video footage and following up on old and new leads. 
Although the prosecutor's office is now the lead in this case, the command center for the investigation remains in the Comstat Room at EOPD Headquarters.
In collaboration with the East Orange Clergy Association and The Cham Group, Mayor Green and the East Orange City Council will be hosting a Candlelight Prayer Service on Friday, November 12, at 5:30 p.m. in front of City Hall. All are invited to attend.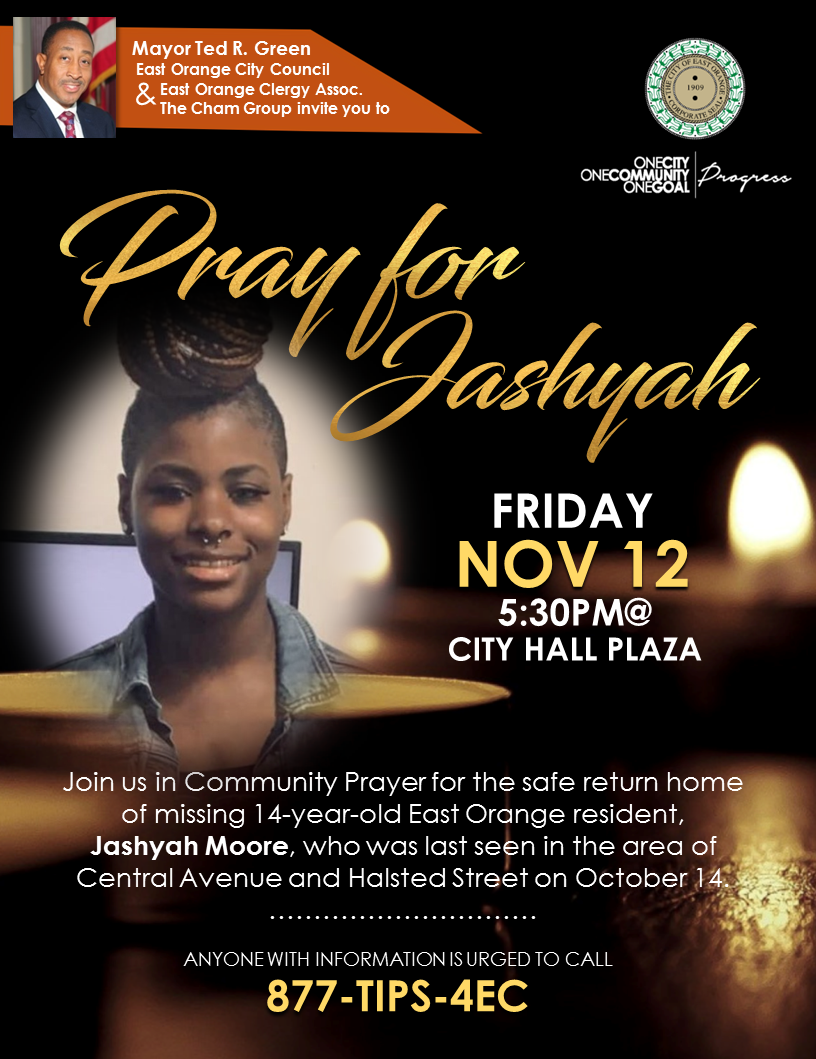 According to police, Jashyah is 5 ft, 5 inches tall and weighs about 135 pounds. She was last seen by her mother wearing khaki pants, a black jacket and black boots. 
Anyone with information is asked to call 877-TIPS-4EC. All tips may be reported anonymously.