Irvington Township

By: Richard L. Smith 
Irvington Township's unwavering commitment to safety and community well-being has again proven successful, with another summer marked by reduced crime rates and discreet significant incidents.
The efforts of The Honorable Mayor Tony Vauss and Irvington Township Police Director Tracey Bowers have played a pivotal role in transforming the township from a hotspot of double-digit killings to a community with crime rates under a half dozen, a significant achievement since the launch of the mayor's initiatives in 2023 that has lasted since 2016.
Director Bowers attributes the success to proactive policing strategies, which have effectively deterred criminal behavior from the township.
His approach emphasizes collaboration, innovation, and reorganization within the police department. New units, like the Border Patrol, have been introduced to strategically target criminal activity in "hot spots" near the Newark border.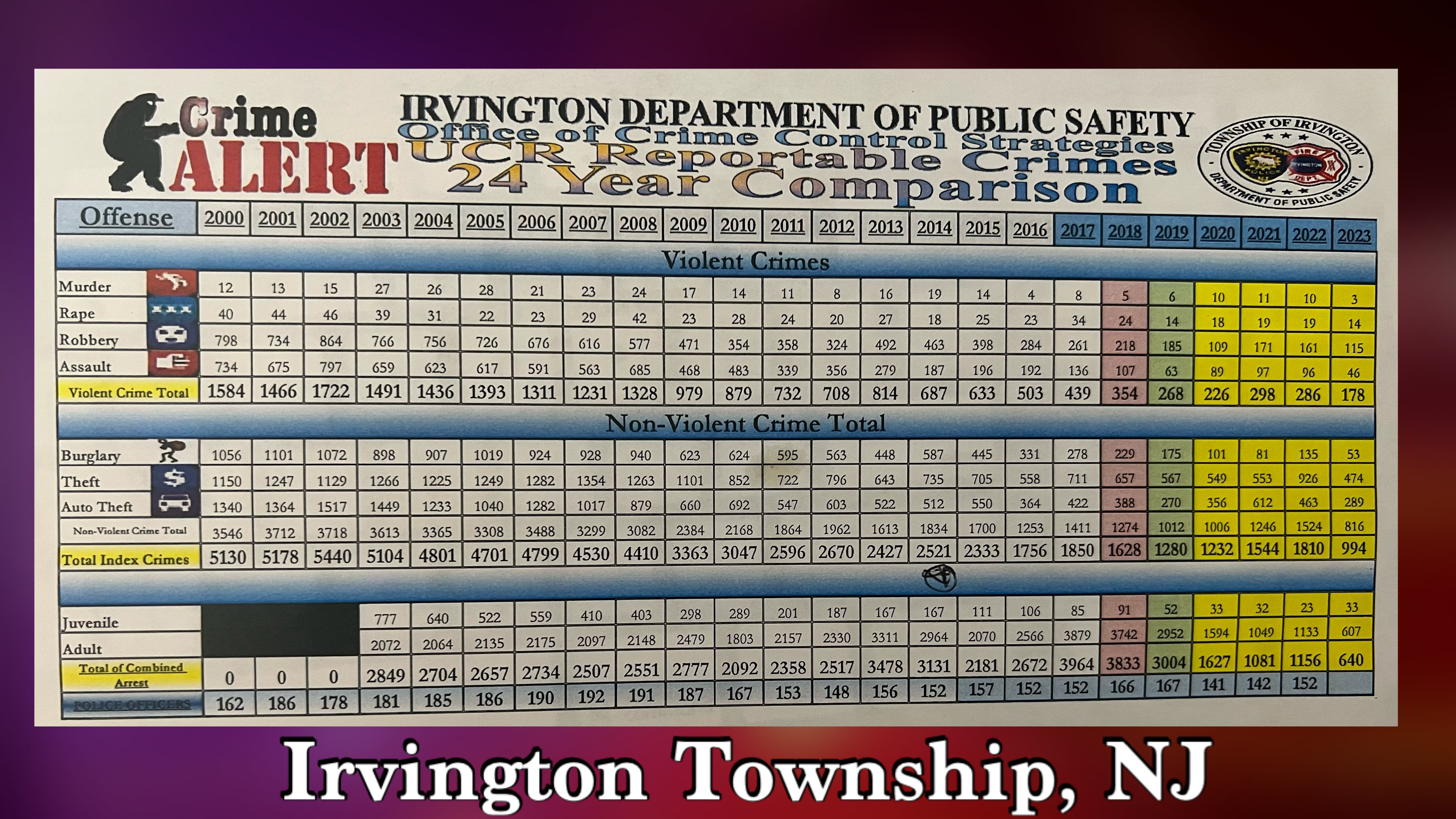 According to the New Jersey State Police Uniform Crime Report for 2013, Irvington experienced a 9% overall reduction in crime rates from 2012 to 2013. This decrease was primarily attributed to a reduction in non-violent crime (18%) and aggravated assault (22%), although there was a 16% increase in the violent crime rate from 13.1 incidents per 1,000 to 15.3.
The impact of these initiatives can be seen in the lives saved. By September 1, 2023, only one homicide had been reported in Irvington during the summer, in contrast to the 14 slayings recorded in 2015.
Shooting incidents have dropped significantly from 34 in 2015 to less than a dozen cases since Labor Day 2023.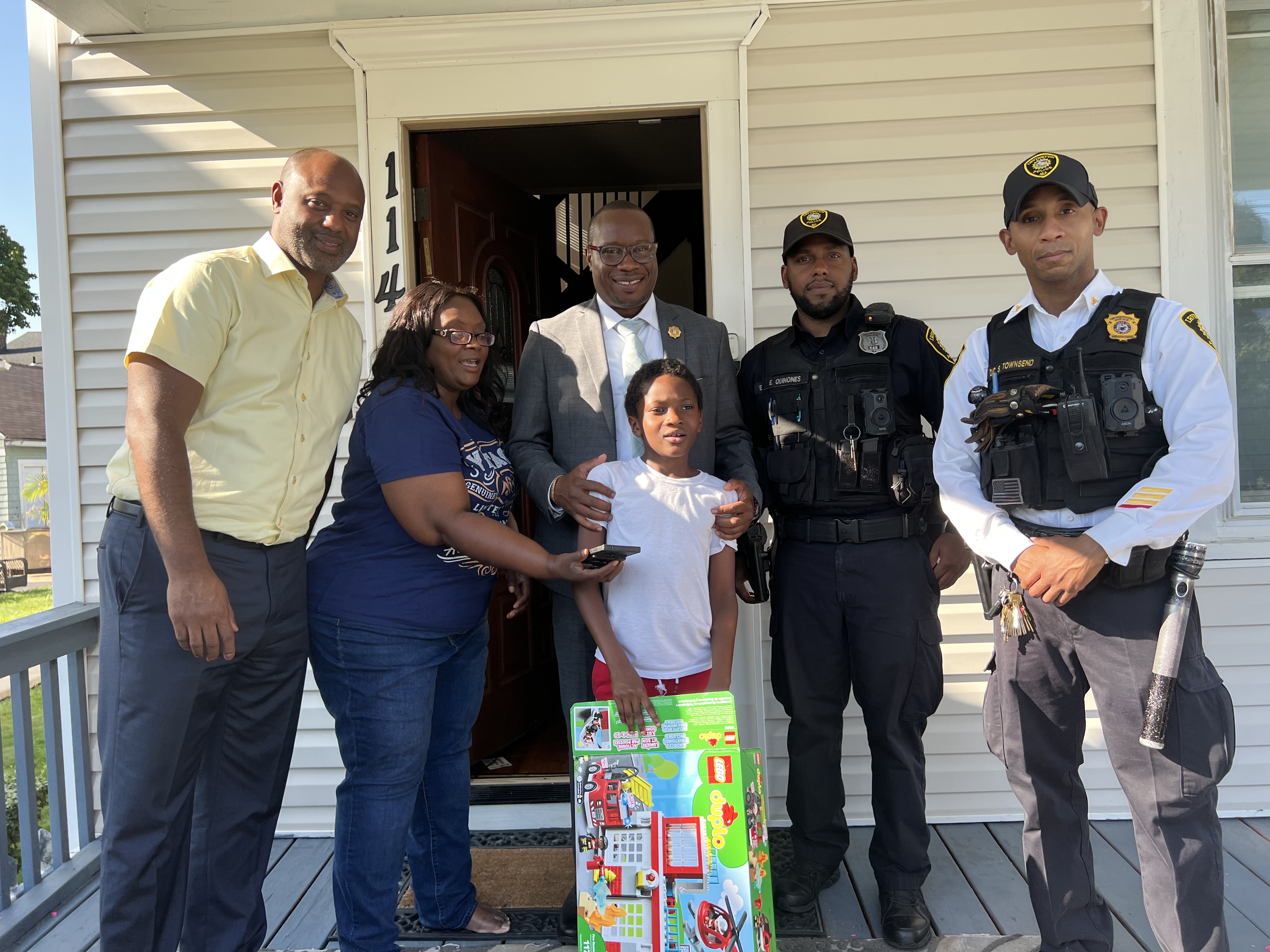 Mayor Vauss, highlighting his commitment to a clean and safe township, reflected on his tenure: "In our community, the average was anywhere from 25 to 30 homicides per year before I took office in 2014."
Irvington-Newark Border Fatal Shooting Under Investigation
Despite a summer marked by peaceful community engagement, an unfortunate incident occurred near the Newark border.
According to Essex County Prosecutor's Office Spokesman Robert Florida, on August 25, a deadly shooting occurred in the 100 block of Isabella Avenue.
At the time, the Essex County Prosecutor's Office indicated that the shooting's proximity to the border made it challenging to determine whether it occurred in Newark or Irvington.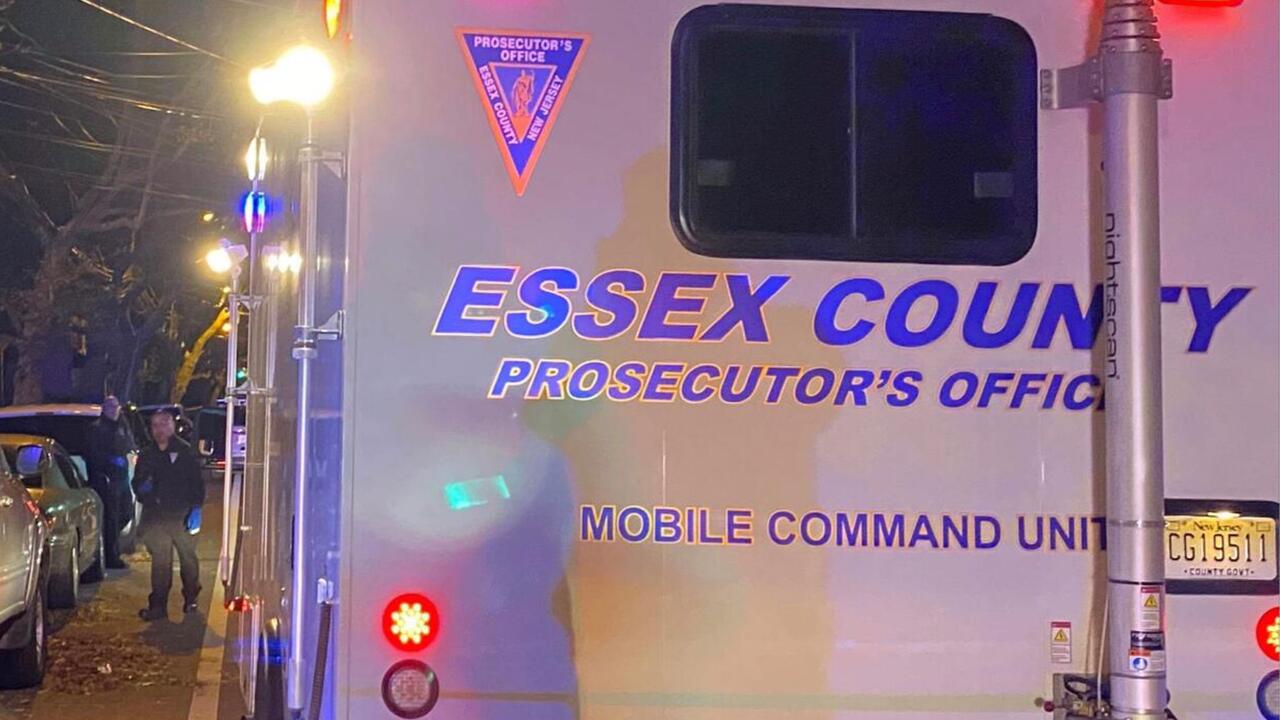 Residents on the Newark side of Isabella Avenue told RLS Media that Newark Police were the first to respond to the deadly shooting they called to report.  
The victim, Mr. Tony King, 50, succumbed to an apparent gunshot wound. This incident shattered the township's record of no homicides during the summer of 2022. The Essex County Prosecutor's Office said Irvington would be credited with the murder. 
Community Complaints End with Four Arrested for Drugs/Weapons
The summer of 2023 saw Mayor Vauss respond to residents' concerns about illegal drug activities. In a collaborative operation involving the Irvington Police Department, Homeland Security Investigations, and New Jersey State Police, a narcotics distribution ring operating near the Newark and Irvington border was dismantled.
The operation targeted the sales and stash of fentanyl-laced prescription pills, cocaine, and other dangerous drugs.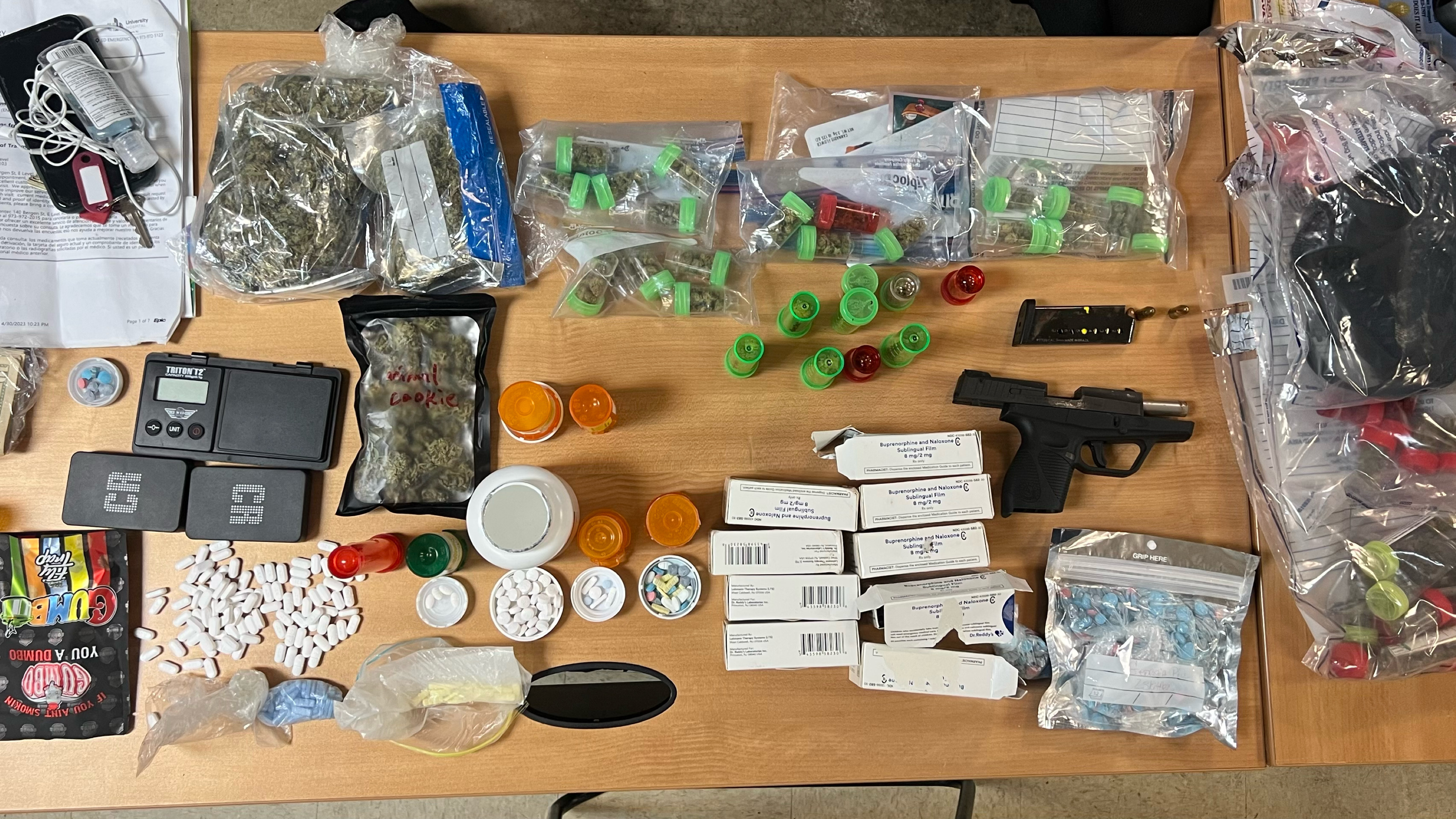 This enforcement action resulted in 39 charges against four defendants involved in the trafficking network that operated within the Newark and Irvington border. It led to the seizure of crack cocaine, unregulated marijuana, batches of oxycodone-laced fentanyl pills, and firearms.
Four individuals were arrested during this operation, including Mr. Marquis Godfrey, 18, also known as "GU." He has been charged with a weapons offense.
Additionally, Shaquan Smith, 25, a resident of Newark, faces charges related to the distribution of narcotics.
Mayor Vauss said Mr. Carl Heyward, 62, a Newark resident, is facing charges of both weapons possession and distribution of narcotics. The operation also resulted in the arrest of Mr. Jovan Singletary, 37, an Irvington resident, on charges of distributing drugs.
These arrests significantly stride in Irvington Township's commitment to curbing illegal drug activities and firearm-related offenses.
The coordinated efforts of the law enforcement agencies have successfully apprehended individuals allegedly involved in the unlawful distribution of narcotics and possession of firearms.
Another commendable crackdown involved addressing drug dealing activities on 22nd Street, off Springfield Avenue.
Irvington detectives collaborated with a State Police tactical unit to conduct simultaneous raids on adjacent homes. Crack cocaine was seized, and multiple arrests were made.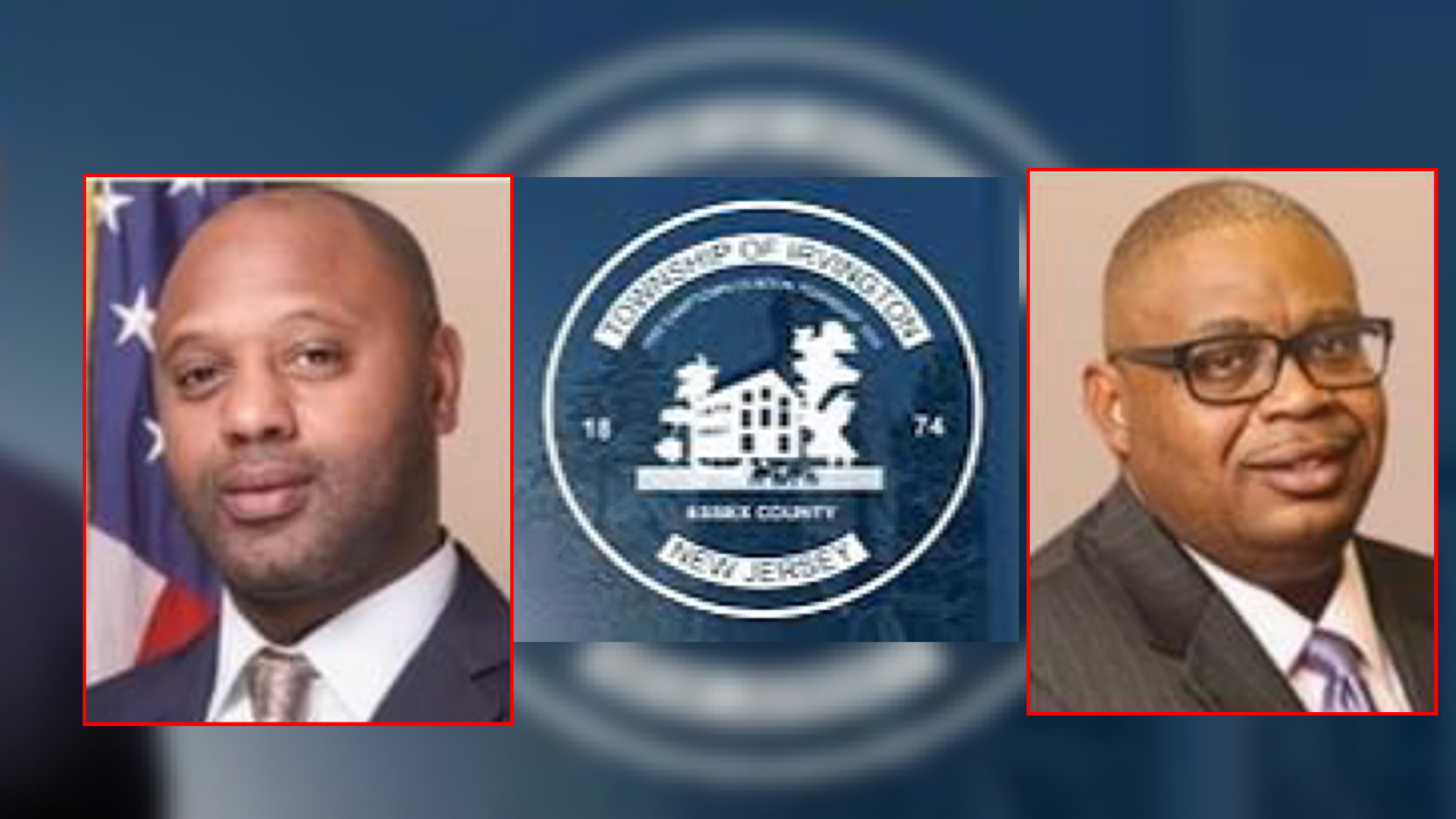 As Director of the Irvington Department of Public Safety, Director Bowers emphasized his commitment to supporting local communities: "I will always use the great powers of my office to help support our local communities as we all work to build a safer Irvington and Newark."
Stepped-up accomplishments and effective enforcement strategies have propelled the dramatic drop in crime rates, ensuring that criminals are deterred from the township.
Examining the FBI Crime Data reports spanning from 1970 to 2023, the downward trend of violent crime in Irvington Township becomes evident:
1970-1979
Murder: 5
Rape: 11
Robbery: 193
Assault: 202
1980-1989
Murder: 8
Rape: 44
Robbery: 456
Assault: 499
1990-1999
Murder: 11
Rape: 59
Robbery: 831
Assault: 671
2000-2009
Murder: 21
Rape: 34
Robbery: 698
Assault: 641
2010-2019
Murder: 11
Rape: 24
Robbery: 334
Assault: 234
2020- June 2023
Murder: 9
Rape: 18
Robbery: 139
Assault: 82
Irvington Township's Mayor said his dedication to community safety has been evident. Collaboration with law enforcement reflects the township's commitment to creating a safer environment for its residents.
This operation serves as a testament to the collective efforts to combat crime, making the streets of Irvington Township more secure for everyone.