East Orange
By: Richard L. Smith 
A town in Essex County is taking the early initiative to prepare its residents for an up-and-coming nationwide escalation in the construction and repair industry, officials told RLS Media on Wednesday.  
With massive changes brought on by the pandemic, a lot of people are changing careers.
For someone who needs to get paid while they learn a new trade, a new apprenticeship program could be the right path and an excellent innovative idea brought on by The City of East Orange. 
In anticipation of a national boom in construction jobs, The Honorable Mayor Ted Green, the East Orange City Council, and the Mayor's Office of Employment and Training (MOET) have partnered with the Rising Builders Program to hold a Special Orientation Session for union pre-apprenticeship opportunities on Monday, January 30, 2023between 10 am-1 pm.
RLS Media has learned that with the current building boom, -there is-  and will be lots of opportunity in the trades, like construction, plumbing, and electrical. 
Officials said the session would be held at the East Orange Public Library, 21 South Arlington Street, East Orange, NJ.
According to east Orange officials, open to East Orange residents, this session will provide residents with information on pre-apprenticeship union opportunities to work with LiUNA Local 3 (Laborers International Union of North America) on the Brick Church Redevelopment Project and other union construction projects.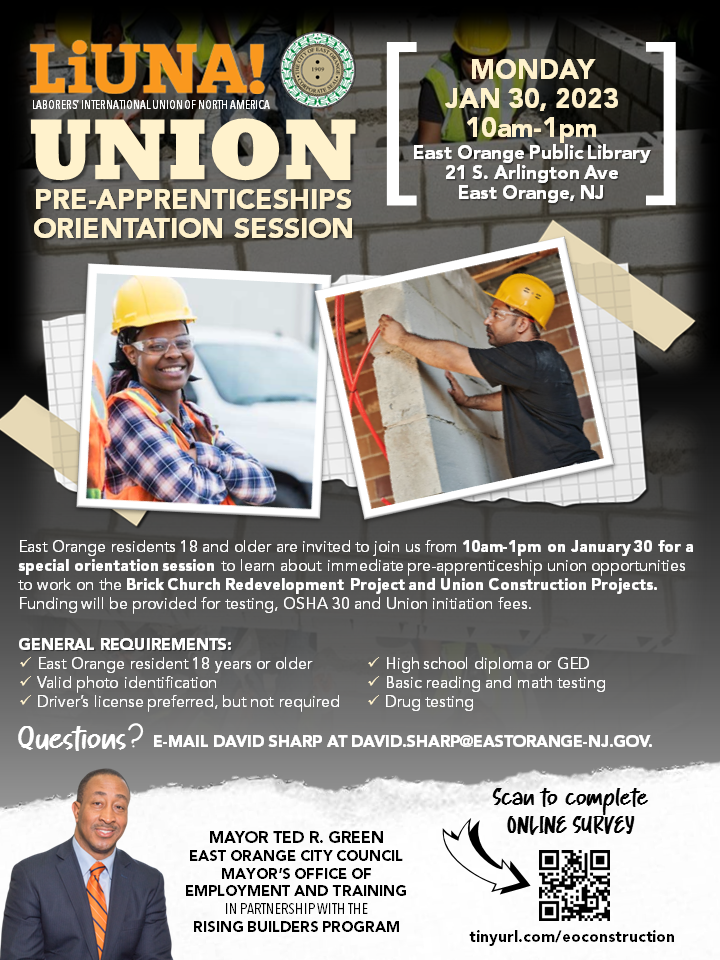 As a union pre-apprentice, participants will receive 80 hours of training Monday through Friday, 8:30 am-4:30 pm.
Subjects will include, but not be limited, to:
Overview of Construction Trades
History of Local 3
Safety Training
Soft Skills Training (e.g. Interpersonal Communication, Time Management, Critical Thinking, etc.)
Pneumatic Tool Certification
Scaffold Certification
In addition to earning multiple certificates upon completion, participants also will receive referrals to Local 3 or 55.
To be eligible for the program, residents must:
Be 18 years of age or older
Have a valid photo identification
Have a high school diploma or GED
Pass a basic reading and writing test
Pass a drug test
A driver's license is preferred but not required. Funding will be provided for all expenses related to testing, OSHA 30, and union initiation fees.
The Rising Builders Program is an innovative public-private partnership between the City of East Orange and Triangle Equities, developer of The Crossings at Brick Church Station, designed to ensure East Orange residents remain workforce ready for local union construction jobs.  
For more information, please get in touch with David Sharp at david.sharp@eastorange-nj.gov.