East Orange

By: Richard L. Smith 
The City of East Orange's Mayor's Office of Employment and Training will host "Reviving the Village: A Community Event" today, Saturday, March 25, at Cicely Tyson Community School of Performing and Fine Arts, 35 Winans Street in East Orange.  
Officials said the event, which will be held between 9 am and 2:30 pm, will feature a special guest speaker and public health advocate Dr. Chris T. "Dr. Chris" Pernell, individual workshops, a host of community vendors, local agencies, hiring recruiters, giveaways and more.
This event is free and open to the public. Breakfast and lunch will be served.  
Breakout sessions will cover such topics as:
Emotional Wellness (coping with the loss of a loved one, depression and suicide prevention);
Violence Prevention (violence and domestic violence, violence with youth, and resources to combat violence); 
Grandparents as Parents(raising grandchildren in the 21st century);
Parent to Parent (challenges of parenting today); and 
Parent to Child (how to navigate issues with your child such as depression, delinquency and gender preference).   
According to East Orange officials, there also will be a Man Cave and She Shed to discuss a variety of specific topics from a male and female perspective, facilitated by the respective gender.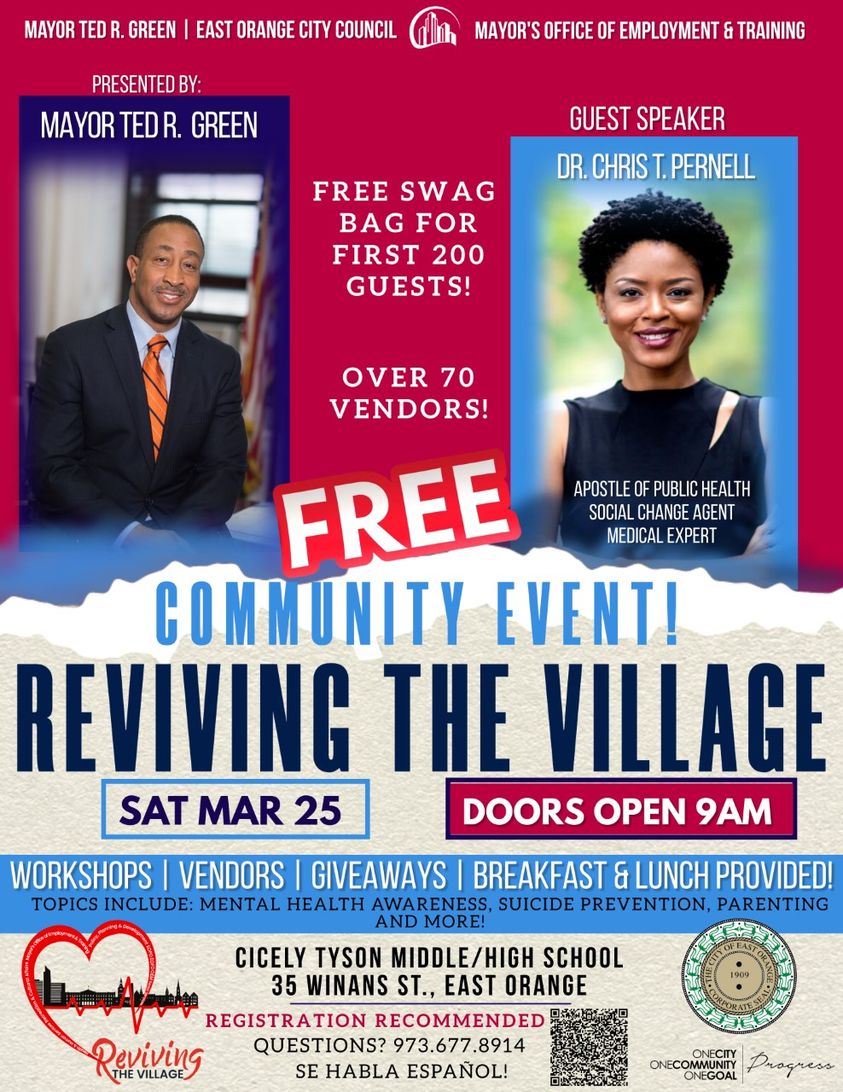 The guest speaker, Dr. Chris, who hails from East Orange, is a dynamic physician leader and social change agent. In her public health practice, she focuses on health justice, community-based advocacy, and population-wide health promotion and disease prevention.  
She regularly speaks at professional symposia and social forums. She advises community, state, regional, and national leaders on health equity, racial justice, population health, community well-being, and faith-based initiatives.