Elizabeth
Elizabeth City officials have confirmed with RLS Media that a total of four people were found dead at an apartment complex in the city overnight. 
Information regarding the circumstances behind these deaths is limited and pending an investigation. 
Elizabeth City Spokeswoman Kelly Martins told RLS Media that sometime before 6 a.m., emergency responders and rescue crews began a search operation for stranded drivers or individuals in the water at The Oakwood Plaza.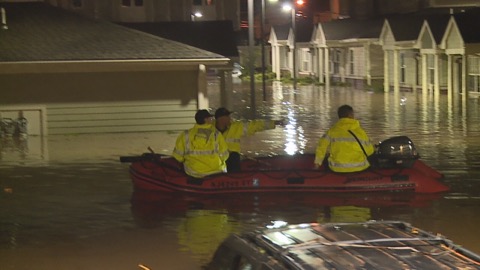 Spokeswoman Martins said five people were found dead and search crews searched the housing complex for possible other victims. 
According to Martins, the complex is in close proximity to the Elizabeth Fire Headquarters, which had about 5-7 ft of water after the torrential rain from Tropical Storm Ida ravaged the area and caused the banks of the Elizabeth River to overflow. 
Martins said it is not clear if the victims were found together and while it is believed that weather played a role in the incident, the cause of their deaths has not been confirmed at this time. 
None of the victims were firefighters. 
"This is an active and ongoing investigation and there is nothing further at this time," Martins said.
UPDATE 12:17 p.m. Elizabeth City Spokesperson Kelly Martins has changed the number of deceased from 5 to 4 victims. Location: 430 Irvington Ave
VICTIMS: 
72-year-old female- wife
71-year-old male- husband
38-year-old male- son
33-year-old female- neighbor