Morris County

By: Najla Alexander
Morris County officials announced the Atlantic Health System (AHS) has taken the lead in providing essential stroke training to Morris County Emergency Medical Services (EMS) Personnel.
In order to help first responders recognize the signs of stroke, to gain better results and outcomes for victims, and even save lives.
"There are two components of county services related to what's happening at the hospital: the Morris County Communications/911 Center that is taking the Emergency 911 calls has a very significant stroke diagnostic tool, and the county regional EMS system that is supporting volunteer and professional EMS efforts throughout the county by working together to get an ambulance to a patient as quickly as possible," said Paul.
"Time is what this is all about. Gayle and the Atlantic Health System have made an investment and a commitment to educate EMS."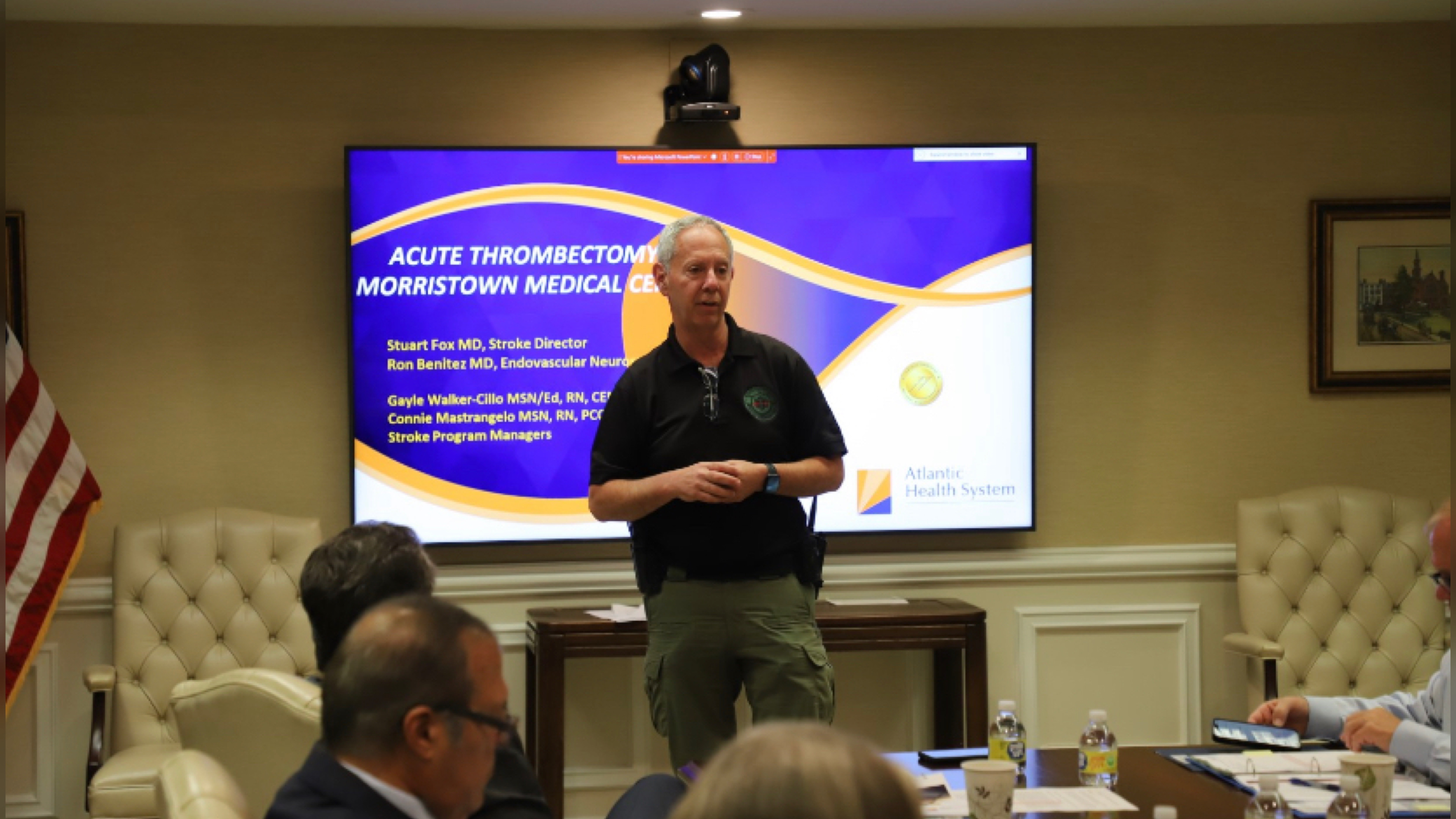 "Some of the successes at the hospital are happening because EMS is better equipped to recognize the symptoms of strokes and get victims to the right hospital."
"Also because the Morris County Communications Stroke Diagnostic tool provides the first responders with critical data that allows the entire patient picture to be better understood," Paul added.
A stroke, sometimes called a "brain attack," is a condition where blood flow is blocked to a part of the brain, resulting in cell death due to lack of oxygen, officials stated.
Officials said if enough brain cells are destroyed, the patient may experience long-term side effects, such as memory loss and muscle control.
When someone is experiencing a stroke, every second counts.
"If you don't have a robust educational model and make sure that every single volunteer and professional EMS agency understands and can recognize a stroke, then we are doing a disservice to our community."
"We're trying to partner with every squad for this essential life-saving training," stated Walker-Cillo.
Officials told RLS Media that it is essential to know the sudden signs of a stroke and call 911.
Those signs can be broken down by the phrase "BE FAST":
B – Balance Difficulty
E – Eyesight Changes
F – Facial Droop
A – Arm Weakness
S – Speech Difficulty
T – Time to Call 911
According to officials, the comprehensive stroke center training from AHS enabled a New Jersey State Trooper to recognize that a motorist driving erratically was displaying signs of a stroke. 
The male driver, whose vehicle was weaving and hitting a guardrail, could have mistakenly been perceived as having behaviors indicative of drunk driving.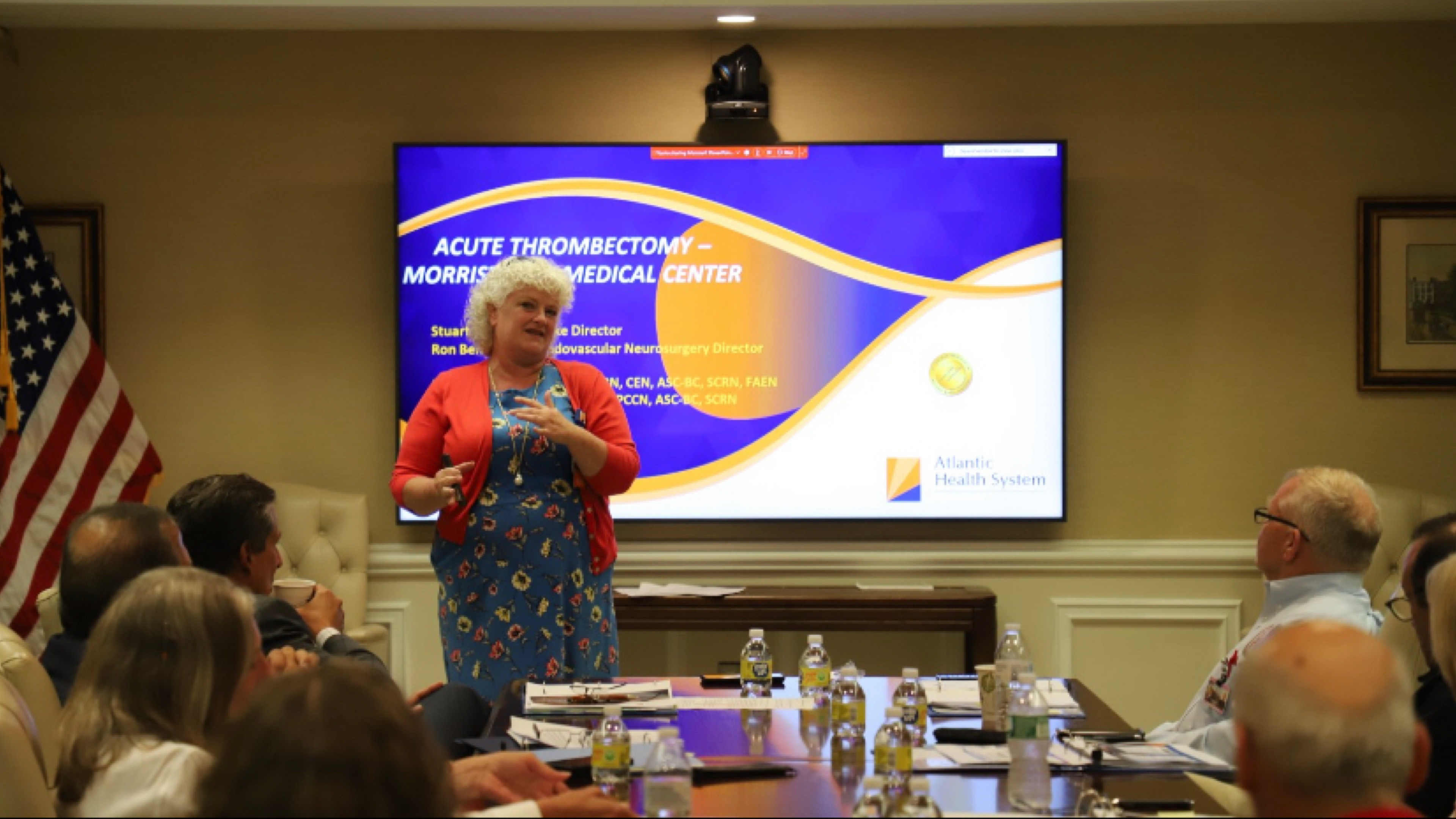 When an EMS team from Montville Township arrived on the scene, the first aid members confirmed that the man was having a stroke.
They did not delay, communicated their findings to the Morristown Medical Center, and transported the patient to the hospital, officials say.
The motorist survived and walked out of the Intensive Care Unit one day later.
"The state trooper and EMS saved this man's life. The EMS team had attended an AHS EMS educational training event only a month earlier," stated Walker-Cillo.
The Comprehensive Stroke Center at Morristown Medical Center is one of two state-designated stroke centers in the region, anchoring a network of more than a dozen Primary Stroke Center hospitals in Northwestern New Jersey, according to officials. 
"It's important that high-end training is provided through people like Gayle and the Atlantic Health System to identify what's occurring with a patient and being timely about the delivery of the patient to the right spot," stated Paul.
"It was a pleasure to learn about all the successes that Atlantic Health and our EMS community are having in this area," stated Krickus.