East Orange
Our RLS Media Management and Metro Morning Crew joined together to provide Trinity and her two best friends (Jade and Nicole) full financial scholarships to the Metro Media Summer Camp held at Kean University this summer to turn her book into a video. -RLS Media 

By: Richard L. Smith 
New Jersey, meet 8-year-old East Orange resident Trinity Davis-Floyd who is a student at Kipp Truth Academy. 
Trinity is the young author of  "Trinity and Sockland." I had a chance to meet and spend some time with Trinity, who is impressive. 
She credits her love of literacy to her fantastic teacher Ms. Gordon.  
The book reveals a bright, energetic, creative-minded young girl who escapes to a place she calls Sockland.
Sockland is an imaginary magical world where all of the lost socks go. When Trinity is there, it's a place where she and her friends are safe to play and have fun together.
While in Sockland, Trinity learns how to deal with problems from Mr. Bricks.
I had a chance to spend about two hours speaking with Trinity and her family last week. She demonstrated all signs of vitality, full of energy, excitement, and cheerfulness, to say the least. 
Behind her wonderful smile, her Mother, Latunia Davis, told me that she also has undergone several heart surgeries due to a life-threatening condition. 
TETRALOGY OF FALLOT CONDITION: 
According to Mayo Clinic, Tetralogy of Fallot is a rare condition caused by a combination of four heart defects that are present at birth.
Officials said Tetralogy of Fallot defects causes oxygen-poor blood to flow out of the heart and into the rest of the body. Risk factors include a viral illness such as rubella during pregnancy, maternal alcoholism, or a family history of the condition.
Symptoms include blue-tinged skin and shortness of breath. Surgery is typically performed in the first year of life, followed by ongoing care.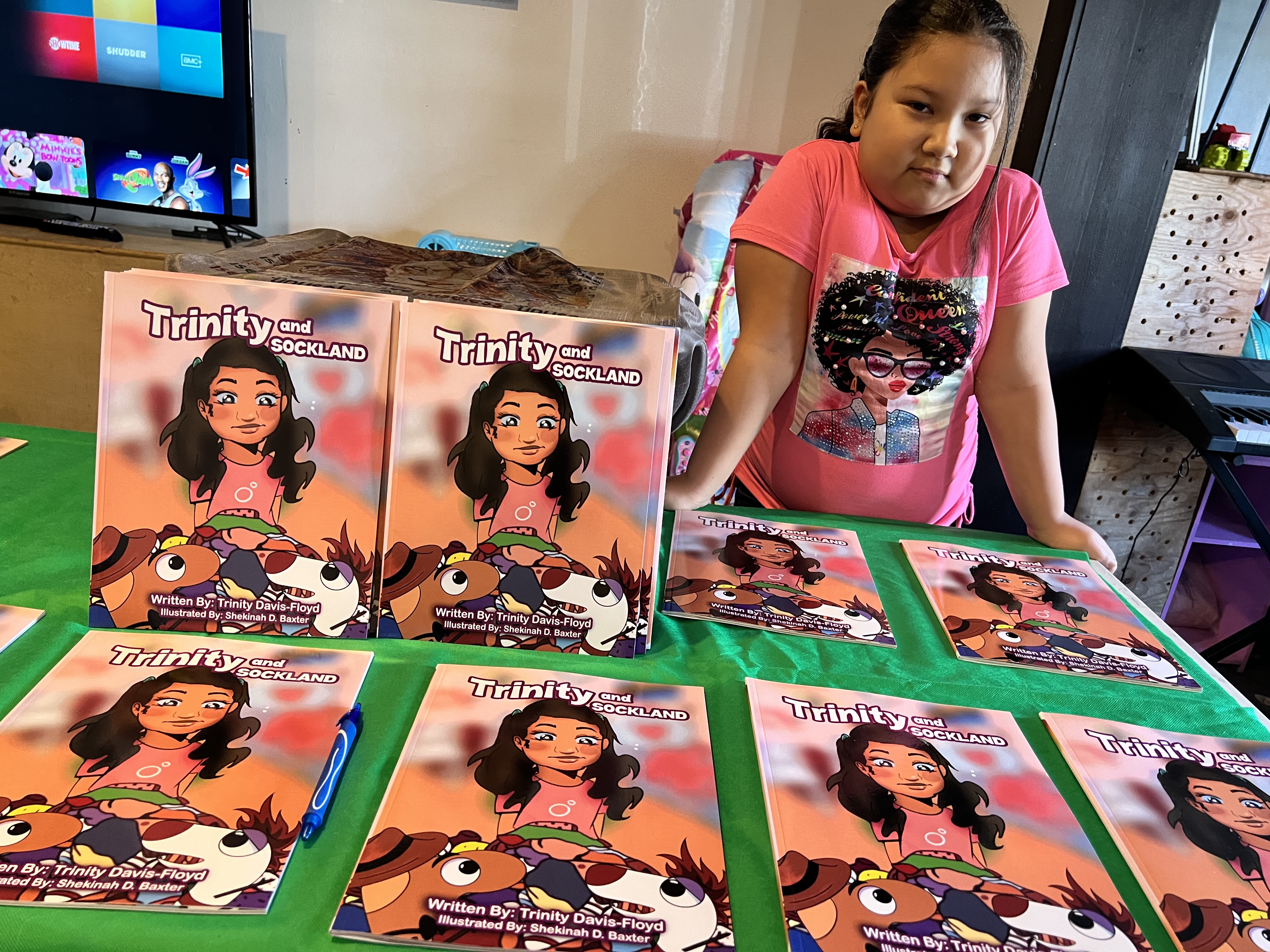 Ms. Davis said although Trinity is currently doing well, doctors have not ruled out the possibility of her undergoing another heart surgery. 
"The doctors at Newark Beth Israel Heart Hospital are awesome and have taken charge is getting Trinity healthy and strong. We thank Beth Israel for great service". 
For now, Trinity continues to write and spend time with her best friends, Jade and Nicole, who were at her side during this interview. 
Trinity said she loves her brother because he helps her write.