Demarest
Knitting aficionado, Katelyn Freeburn, just donated five of her handcrafted lap blankets to patients at the Woodcliff Lake Health & Rehabilitation Center. 
The Academy of the Holy Angels sophomore (Class of '24) specifically chose this facility because the center's staff recently cared for her grandmother.
"It felt nice because I knew that I was about to make someone's day and that they would have something a little more personalized and vibrant; something to brighten up the room," the Mahwah teen said of her donation.
Freeburn's interest in knitting began two years ago when she spotted a Tik Tok video about the craft. She jumped at the chance to learn more. 
"It's actually very simple," she said, acknowledging that she essentially taught herself how to knit. "It may look intricate, but it just takes time and a lot of patience."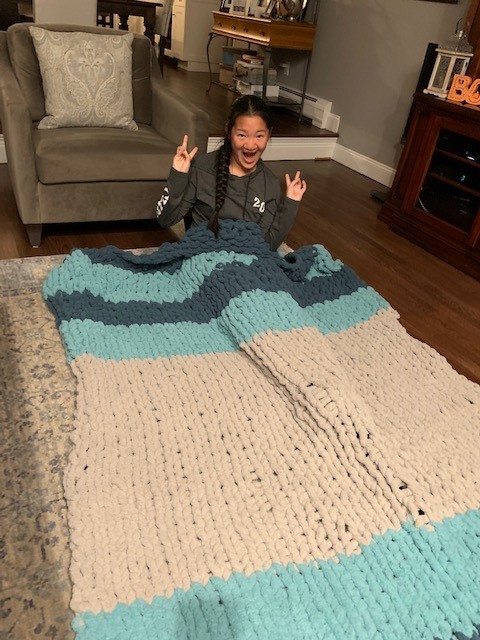 Her first blanket was a chunky-knit blue and gray creation that she kept for herself. Her mom then suggested that Freeburn make some to share.
Now that she has delivered her first round of blankets, Freeburn plans to knit and donate five more. 
After that, her needles will continue to fly as she starts crafting full-sized blankets for family members and even for her favorite resorts in Montana and France. She would also like to find time to start knitting hats, scarves, and stuffed animals.
"School first," she said pragmatically.
Freeburn's varied interests also include diamond painting, playing soccer, and skiing. She learned to ski as a young girl and now teaches others about this popular sport.